(First Upload on January 11 2009. Last on December 29 2014) [ 日本語 | English ]
Ricinus communis L.
Mount Usu / Sarobetsu post-mined peatland
From left: Crater basin in 1986 and 2006. Cottongrass / Daylily
Consisting of one species
Hima (ヒマ, 蓖麻), or tougoma (トウゴマ, 唐胡麻), castor bean
Lifeform: perennial forb (except annual on a few cultivars)
Origin: (probably) North Africa - India, now widespread throughout tropical regions

from China to Japan in early Heian Era
from USA to Japan in late Edo Era
nowadays naturalized, in particular, in the western part of Japan

Seed: structure
Use: oil material

Cultivars

Gibsonii: red-tinged leaves with reddish veins and pinkish-green seed pods
Carmencita Pink: pinkish-red stems, similar with Gibsonii
Carmencita Bright Red: red stems, dark purplish leaves and red seed pods
Impala: compact with reddish foliage and stems, brightest on the young shoots
Red Spire: tall with red stems and bronze foliage
Zanzibarensis: tall with large, mid-green leaves with white midribs
Ricinus communis grown at ILTS
---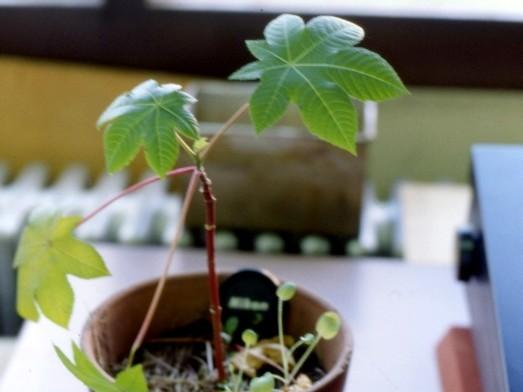 1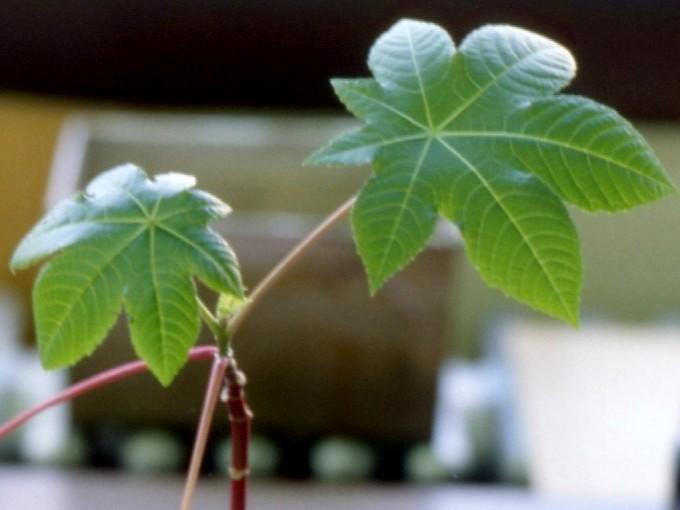 2
[1/2] the plant was cultivated in the lab of Frost Injury on Plants, the Institute of Low Temperature Science (ILTS), Hokkaido University, on November 16, 1989 by Dr. Maeshima.