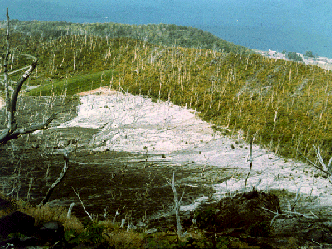 Revegetation patterns
My major research has been conducted on Mount Usu (42°32'N, 140°50'E, 727 m elevation), northern Japan, which erupted in 1977 and 1978 and in 2000. The vegetation dynamics is monitored by permanent plots after the 1977 and 2000 eruptions to the present after. These eruptions destroyed the pre-eruption vegetation by thick accumulations of ash and pumice.
Most species establishing on the summit area were derived from vegetative reproduction, which played a major role on increases in cover (Tsuyuzaki 1991), throughout the volcanic deposits (Tsuyuzaki 1987). Therefore, the dominant species were large perennials in the early stages of succession. Although wind-dispersal woody species, such as willows and birches, immigrated to the crater basin, their cover increase was slow because of low nutrients and high mammalian herbivores (Haruki & Tsuyuzaki 2001). Thereafter, the fates of perennials were dependent on the rhizome and/or stolon systems. Erosion developed gullies where the former topsoil was exposed. Most annuals were supplied from the seedbank in the topsoil. These indicated that the plant source greatly determines the species composition of establishing vegetation (Tsuyuzaki 1989). Seed extraction method is imporoved to collect seeds quickly with high recovery rate (Tsuyuzaki 1994). Using the flotation and germination tests, the survial of buried seeds were examined. Many seedlings emerged from the topsoil (Tsuyuzaki 1994). The seeds have survived more than 30 years under thick tephra (Tsuyuzaki 2010). Most annuals originated from the seedbank but diminished a few years later. The nitrogen-fixing and stoloniferous perennials, Trifolium repens and Lotus corniculatus var. japonicus, were derived only from the seedbank, and have gradually increased in cover. The seedbank was the major source of annuals and of nitrogen-fixing perennials. Succession in the gullies was substantially different from that which occurred outside the gullies where plants mostly originated from seed immigration and vegetative reproduction from surviving plants (Tsuyuzaki 2009).

[Flora on: Mount Koma, Mount Usu (specimen)]
Ephemeral annuals and well-rooted perennials were successful. Depending on the expansion of once-established perennials, the plant cover was increasing acorss time. Ground surface movements strongly restricted increases in plant cover and the distance from source vegetation was the principal determinant of plant density (Tsuyuzaki & del Moral 1994). Along the disturbance gradient, the successional rates were high on the stable substrates outside gullies and low on the exposed original topsoil. The analyses of species diversity evaluated by density and cover supported the results (Tsuyuzaki 1991).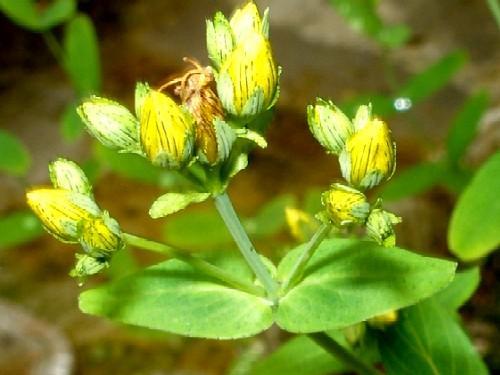 The seeds of Hypericum erectum
survived for more than 30 years under
the tephra

A small-scaled eruption occurred on Mount Koma, Hokkaido, in 1996, while an extensive eruption that completely destroyed the former vegetation took place in 1929. On the summit area, I set up 400 50 cm × 50 cm permanent plots in 1996, and is annually monitored. The vegetation change is totally slow for the first five years (Tsuyuzaki & Hase 2005). I am/was monitoring plant community dynamics with reference to:

Biological invasion (Kondo & Tsuyuzaki 1999)
Facilitation and inhibition (Uesaka & Tsuyuzaki 2004)
Symbiosis between vascular plants and mycorrhizal funig (Tsuyuzaki et al 2005)
Plant-animal interactions (Nishi & Tsuyuzaki 2004)

The vegetation data 6 years after the eruption were compared between Mount Usu and MSH. The resembled vegetation was developed in the similarly-disturbed areas even in the geographically distinct regions (Tsuyuzaki & del Moral 1995). The vegetation development was restricted by gully development, due mostly to ground surface instability (Tsuyuzaki & Titus 1996). Although seedling establishment was restricted by ground surface instability, texture and microtopography, the seedling growth seemed to be restricted by the texture of volcanic deposits, i.e., they could not penetrate their roots into silt particles (Tsuyuzaki et al 1997).
Other volcanoes
I had chances to observe Mts Ruapehu, Tarawera, and others located in North Island, NZ, and Mt Pinatubo in the Philippines.