≈ subkingdom Rhodoplantae
Assimilatory pigments

chl a, b, c
phycoerythrin: red biliprotein pigment of blue-green algae and red algae
phycocyanin b, c, γ: blue biliprotein pigment of blue-green and red alage carotenoid α, β carotene
lutein
zeaxanthin

photosystem II related pigments = phycobilin (フィコビリン) → biliprotein pigments of blue-green and red algae

phycobilisome (フィコビリソーム): the cellular organelle on the surface of thylakoids in which the biliprotein pigments are present in blue-green and red algae

Assimilation products

floridoside (フロリドシド), ect.

Storage substance

floridean starch (紅藻デンプン), sterols, etc.
Phylesis

(need re-construction)
Phylum Cyanidiophyta
moved from Cyanophyta
= Class Cyanidiophyceae = Order Cyanidiales = Cyanidiaceae 5 species in 5 genera
Rhodospora, Cyanidioschyzon, Cyanidium, Rhodococcus, Galdieria
Phylum Rhodophyta
Class Bangiophyceae ウシケノリ鋼, or
Class Protoflorideophyceae 原始紅藻鋼
= Protoflorideae, Bangioideae


Fig. Protoflorideae (Bangiales): A: Erythrocladia subintegra, B: Calaconema simplex, C: Porphyropsis subintegra, D: Erythrotrichia reflexa
Order Porphyridiales (チリノモ)
Porphyridiaceae
Chroothece, Porphyridium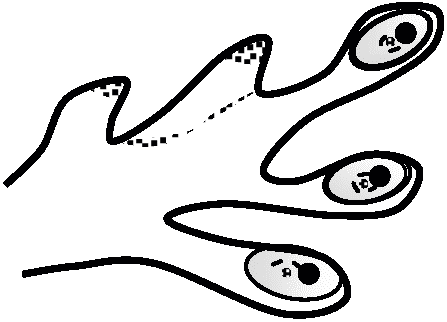 Chroothece mobilis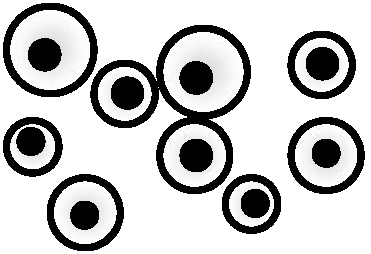 Porphyridium ceruentum
Order Goniotrichales ベニミドロ
Goniotrlchaceae (Stylonemataceae)
Asterocytis, Bangiopsis, Goniotricum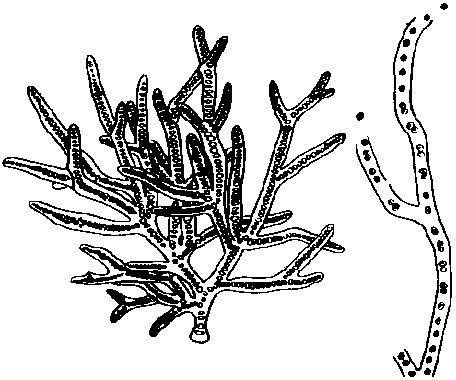 Stylonema alsidii (Zanardini) K. M. Drew (Syn. Goniotrichum alsidii)
Phragmonemataceae フラグモネマタ
Phragmonema
Order Bangiales ウシケノリ
Conchosporangium

(pl. -a): a type of enlarged sporangium usually produced in series ("fertile cell rows") by the conchocelis phase of several members of the Bangiales


Conchospore

: a spore produced and released singly by a conchosporangium
Erythropeltidaceae ホシノイト
Colathrocladia, Erythrocladia, Erythropeltis, Kyliniella, Membranella, Porphyropsis, Smithora
Bangiaceae ウシケノリ
Bangia ウシケノリ, Erythrotrichia, Porphyra アマノリ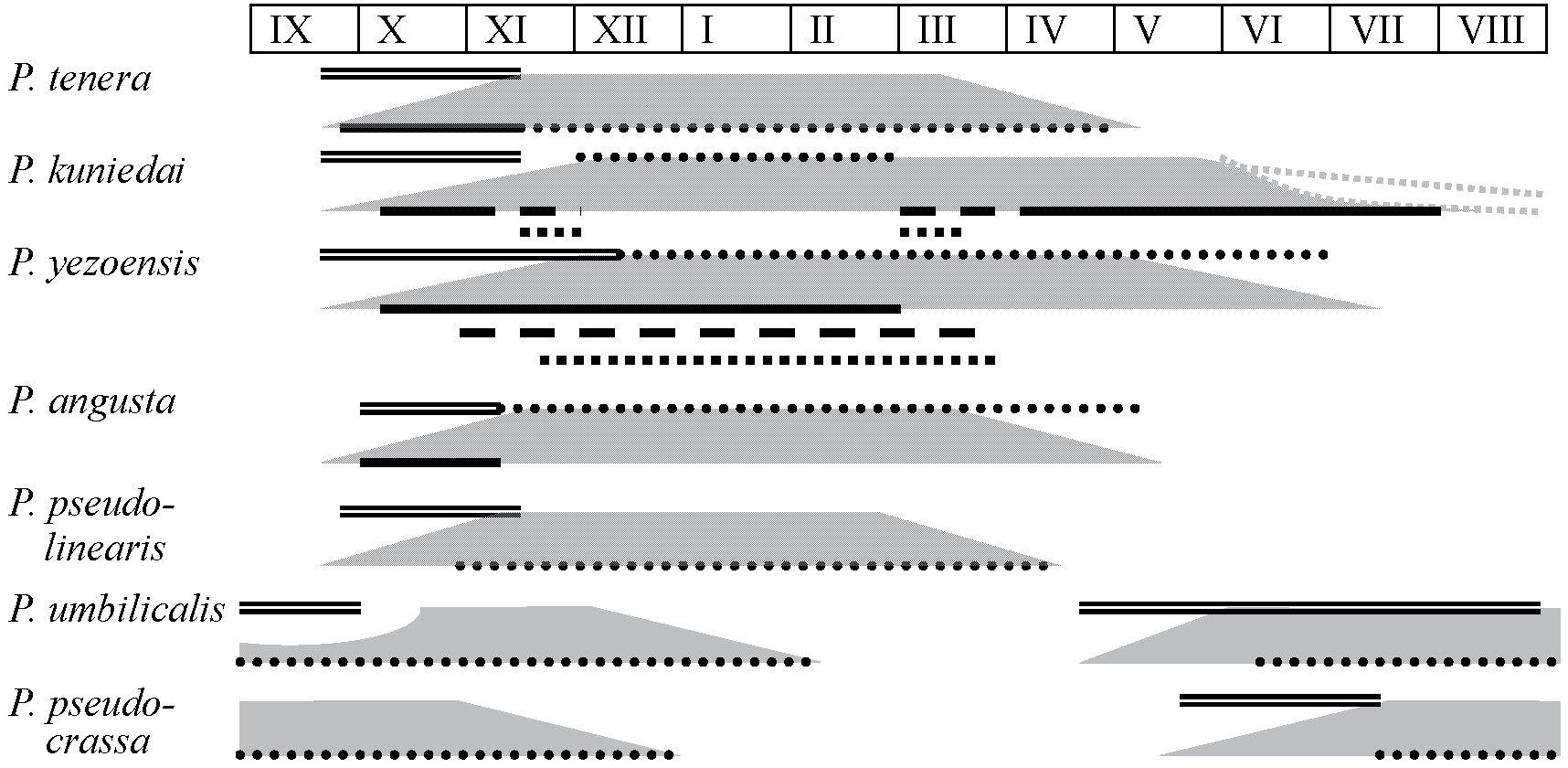 Fig. Periods of the growth of different Porphyra and seasonal changes of their reproductive organs.

-------- : plant bearing neutral sporangia only. - - - -: plant bearing neutral sporangia and antheridia. ········: plant bearing neutral sporangia and cystocarps. ••••••••: plant bearing antheridia and cystocarps. ======: liberation of monospores of conchocelis
Class Florideophyceae (Florideae) 真正紅藻鋼
Gonimoblast (造果糸): a filament bearing a carpospore or carpospores or the entire collection of these filaments comprising the carposprophyte

Cystocarp (嚢果): the carposporophyte and any immediately surrounding envelope or pericarp provided by the gametophyte (→ cf. pericarp)

Pericarp (子嚢): a sterile covering around a carposporophyte (in the Florideophycidae)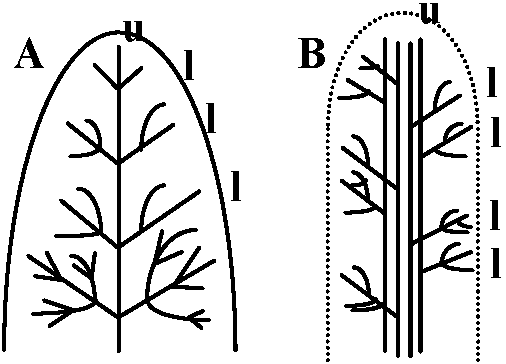 Fig. Differentiation of filaments within axes of erect Florideophycean fronds. A, uniaxial erect frond (単軸型), with filament of unlimited growth (u) and filaments of limited growth (l); B, multiaxial erect frond (多軸型), with filaments of unlimited growth (u) and filaments of limited growth (l). (Modified after Scagel)


(a) Uniaxial form


Acrochaetiaceae (Chantransiaceae)
Acrochaetium, Rhodochorton: monostichous
Batrachospermaceae カワモズク
Batrachospermum カワモズク: B. ectocarpum, B. moniliforme, B. testale, B. virgatum, B. coerulescens, B. graibussoniense, B. vagum, B. gallaei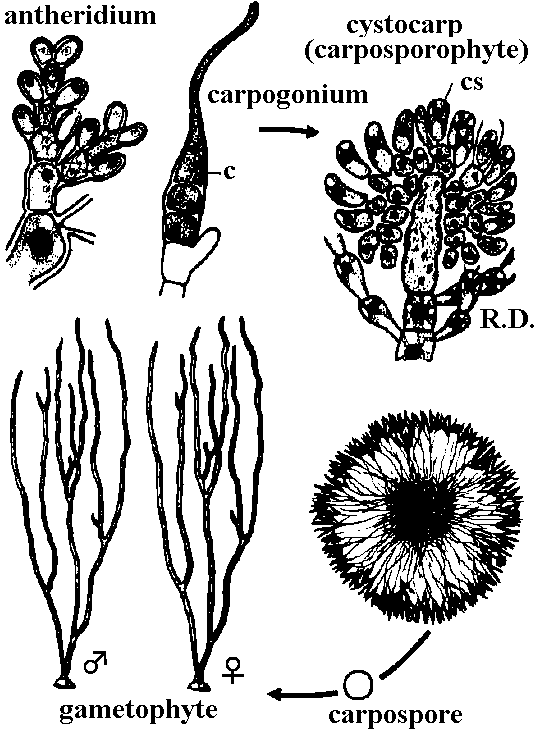 Fig. Nemalion multifidum

Lemaneaceae レマネア
Naccariaceae
Naccaria
Bonnemaisoniaceae (カギノリ)
Asparagopsis (Falkenbergia), Bonnemaisonia (Hymenoclonium, Trailliella), Delisea, Ptilonia


(b) Multiaxial form


Thoreaceae
(Nemalionopsis), Thorea
Helminthcladiaceae ベニモズク
Cumaqloia, Dermonema, Helminthocladia, Helminthora, Liagora, Liagoropsis, Nemalion, Nemalinopsis, Trichogloea
Chaetangiaceae ガラガラ
Actinotrichia, Chaetangium, Galaxaura, Gloiophloea, Scinaia
Many species have three morphological phases
Type I

__________________

Type II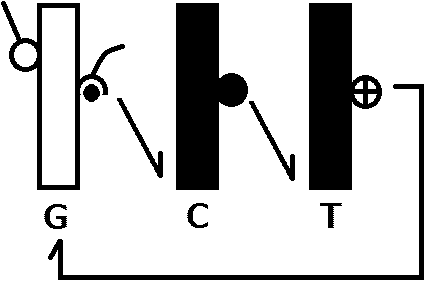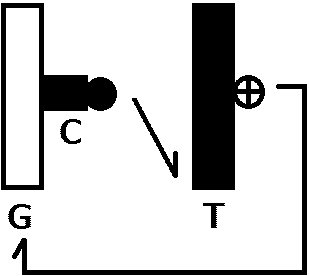 Type I: ancestral type. Type II: Polysiphonia flexicaulis type (イトクサ型), cycling three generations. C carposporophyte (果胞子体). G gametophyte (配偶体). R place or potential place of meiosis. T tetrasporophyte (四分胞子体). Solid rectangles indicate diploid phase of nucleus (複相), open rectangles haploid phase (単相).
Type III a

____________

b

________________

c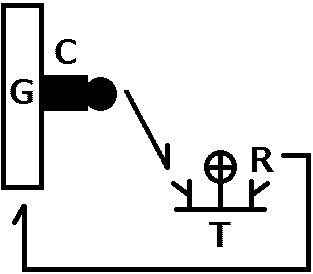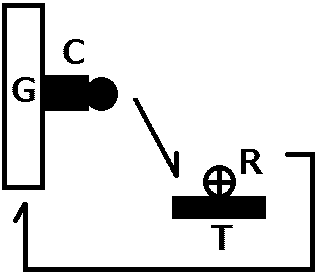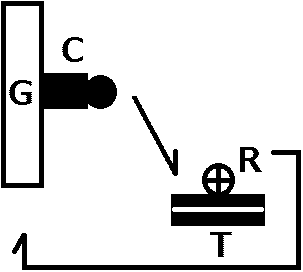 Type III: heteromorphic type, classified into three subtypes a to c. a, Asparagopsis aroma subtype. b, Acrosymphyton purpuriferum subtype. c, Gloiosiphonia capillaris subtype.

Type IV a

__________

b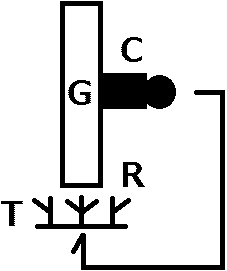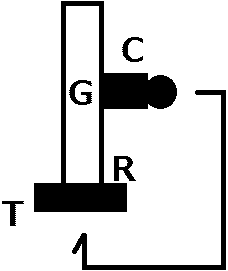 Directly-developed type. a, Lemanea mamillosa subtype (レマネア型). b, Ptilonia okadai subtype.
Type V

_____

Type VI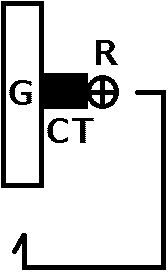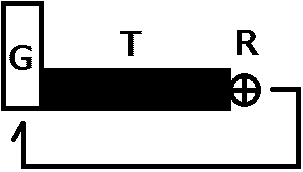 Type V: Liagora tetrasporifera type. Type VI: Rhodochorton purpureum type. CT carpotetrasporophyte or tetrasporoblast.
Type VII

_

Type VIII

__

Type IX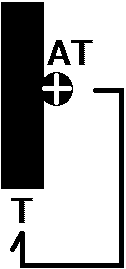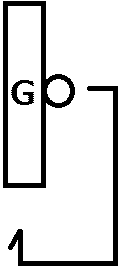 Type VII: Hildenbrandia prototypus type (ベニマダラ型). Type VIII: Gigartina papillata type (イボノリ型). Type IX: Acrochaetium bonnemaisonii type. AT apomeiotically divided tetrasporangium.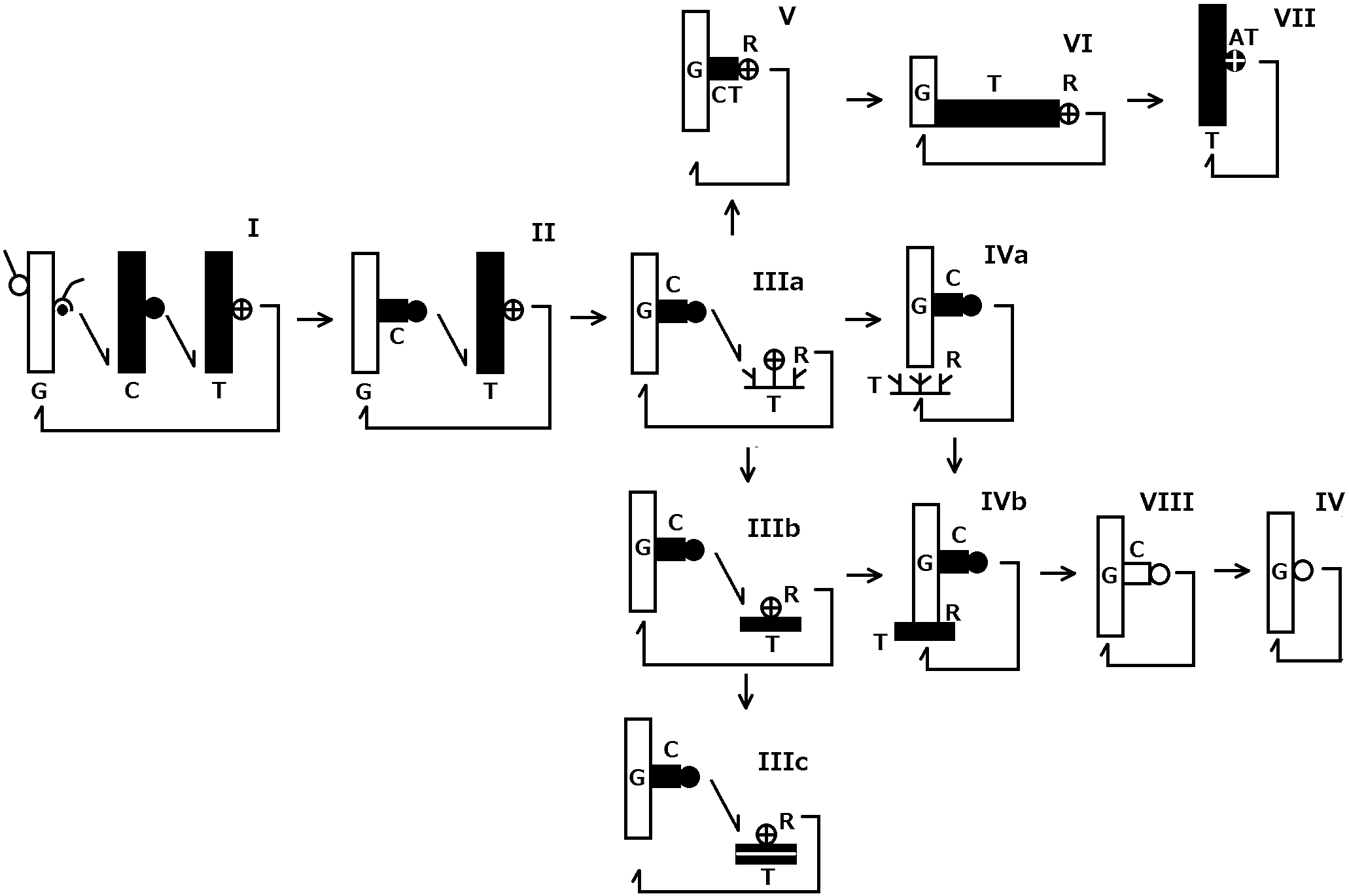 Fig. Diagram showing evolutionary relationship among types of life history in the Florideophyceae (Umezaki 1977).
Order Gelidiales テングサ
carpogonium (造果器): forming from the cells at the bottom of paraphysis, and with no stalks wihtout the specific gonimoblast (造果枝)

paraphysis (側糸, pl. –ses): a sterile structure among sporangia or gametangia

Gelidium amansii マクサ

a phycocolloid characteristc of the Rhodophyceae; its a sulfated polysaccharide (a galactan) occurring in the cell walls and intercellular spaces, extracted primarily from Gelidium and Gracilaria and used commercially for its gelling properties
Order Cryptonemlaes カクレイト
(generative) auxiliary cell (助細胞): a cell from which the carposporophyte is produced following transfer to it of the zygote nucleus or one of its diploid progeny (in Florideophycidae of the Rhodophycophyta)
Corallinaceae サンゴモ
perithallium (or perithallus): that protion of the vegetative thallus (in Corallinaceae) in which the cells or filaments are developed inwardly from the intercalary meristem
Order Gigartinales スギノリ
Gracilariaceae オゴノリ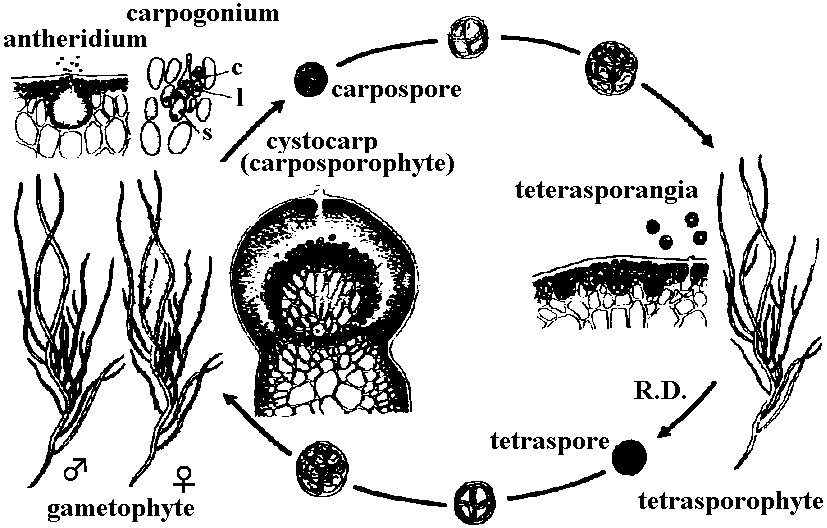 Fig. Gracilaria verrucosa
Gigartinaceae スギノリ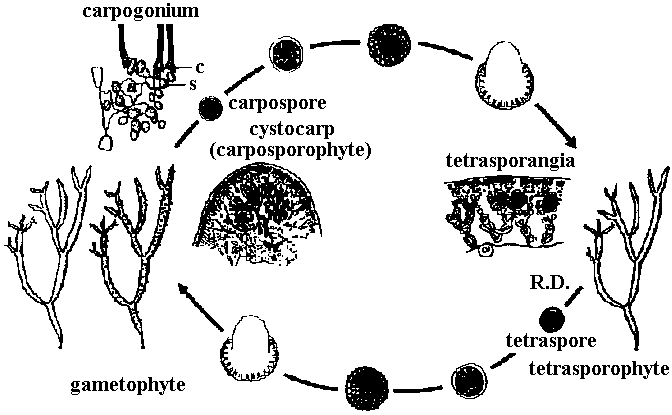 Fig. Gloiopeltis furcata


Condrus yendoi Yamada et Mikami

Female gametophyte – carpogonium, cystocarp
Tetrasprophyte – tetrasporangium

Gloiopeltis furcata フクロフノリ: dioecious plant

Female gametophyte – carpogonium, cystocarp
Tetrasporophyte – tetrasporangia

Order Rhodymeniales ダルス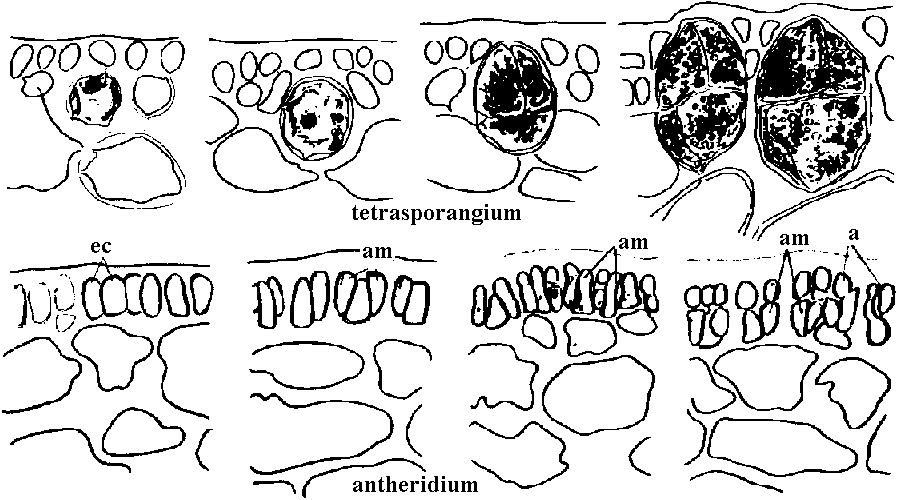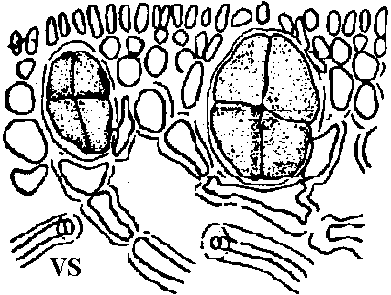 Fig. Development of reproductive organs and carposporophyte in Rhodymenia pertusa. VS: Dumontia simplex Cotton (ヘラリュウモン), a part of the vertical section of tetrasporophyte
Order Ceramlales イギス
Rhodomelaceae フジマツモ


Fig. Polysiphonia flexicaulis


ala (翼, pl. alae): wing, such as the membranous expanses from the central midrib in foliose members of the Delesseriaceae

Order Cryptonemiales カクレイト
Dumontia simplex Cottonヘラリュウモン: イトグサ型