Taxonomical classification
Division Rhyniophyta (ライニア門)
= Division Pteridophyta, s.l.
Subdivision

Psilophytina (裸茎植物亜門)
Class Rhyniopsida (ライニア綱)
= Class Psilophytopsida (古生マツバラン綱)
1970 Banks: three major groups =

Rhyniales +
Trimerophytales (Trimerophytina) +
Zosterophyllales (Zosterophyllophtina)

stele = centrarch 心原型 (≈ endarch 内原型)
lacking secondary vascular bundle tissues
sporangium - split vertically
Rhyniaceae (ライニア)
Rhynia Kidst. et Lang, Horneophyton Bargh. et Darrah (= Hornea Kidst. et Lang)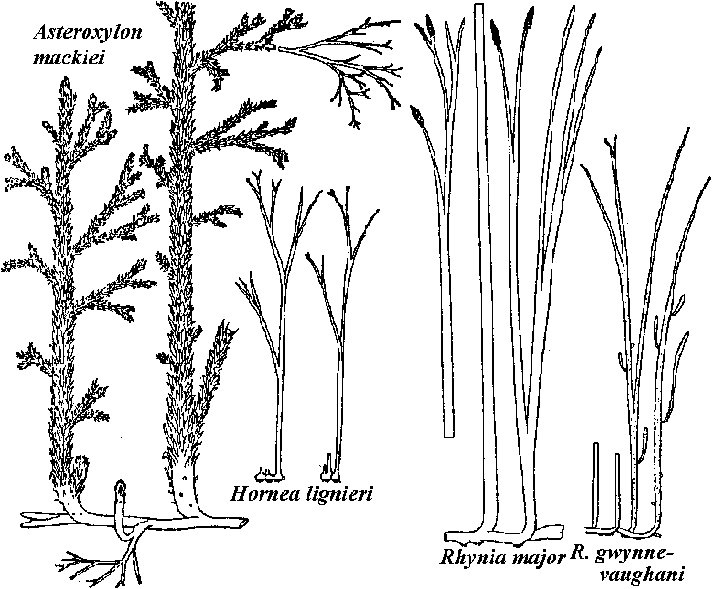 Rhynia: R. major (2n) → same species (?) → (n) R. gwyene-vaughan

Hypothesis: R. gwyene-vaughan: developing inconstant branch (不定枝) → R. major
unbalanced dichotomous branching → differentiation of stems and branches (dichotomous, polyaxial branching)
Selaginella tamariscina (P. Beauv.) Spring and Selaginella remotifolia Spring: planate, dichotomous branching - derivation from crisscross, dichotomous branching

Trimerophytaceae (Order Trimerophytales in opinion)
Dawasonites Halle
Trimerophyton Hopping (トリメロフィトン)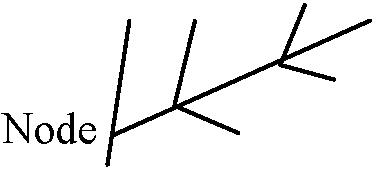 three branching → evolving to Equisetum

Cooksoniaceae (クックソニア) (opinion, merged into Rhyniaceae)
Cooksonia Lang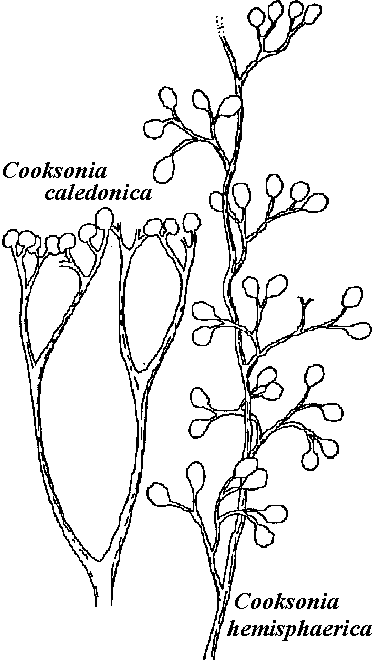 Asteroxylaceae (アステロキシロン)
Protolepidodendron Krejči (Gr. protos = first, lepidos = scale, dendron = tree)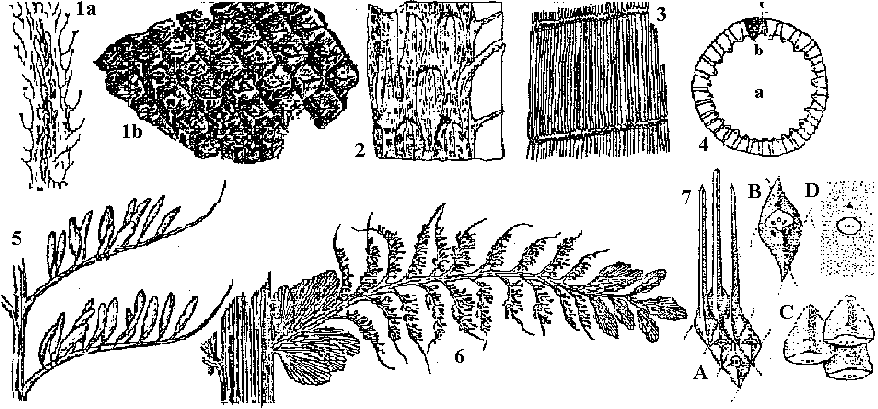 Fig. 1. Protoledpidoendron scharyanum (Mid-Devonian, Germany. Lower Devonian, Yungnagn, China)

a: branch attached with threadlike foliage, b: magnified branch surface. 2.Lepidodendron oculis-felis (Lower Permian). 3. Calamites cisti (Upper Permian, Germany). 4. Calamites, a: medullary groove (髄孔), b: xylem, c: medullary ray (射出髄). 5. Archaeopteris latifolia. 6. Archaeopteris hibernica. 7. Leaf based of several Lycopods: a, young twig of arborescent Lycopod; b, Lepidodendron; c, Lepidophloios; d, Bothrodendron

Calamophyton: mid-Devonian → morphologically similar with Hyenia = classified into Arthrophyta, homospore or heterospore is unknown
Sphenophyllum (Gr. sphenos = wedge, phyllum = leaf): tree fern (Articulatae, 有節類). strobilus = Bowmanites. homospore
Order

Zosterophyllales (ゾステロフィルム目) lateral sporangia (側生胞子嚢) → sporangium = transverse dehiscence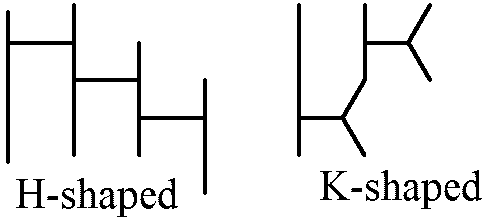 H-shaped or K-shaped branching
exarch → Lepidophyta
[the present ferns]

Zosterophyllaceae
Bucheria Dorf, Zosterophyllum Daws.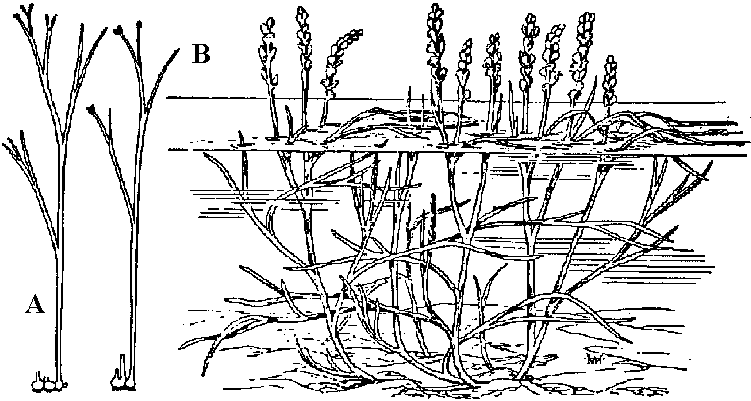 Fig. A: Horneophyton lignieri. B: Zosterophyllum rhenanum Kräusel u. Weyland. Upper Devonian (reconstruction) (Weyland 1935) [Division Rhyniophytaは上記]
Subdivision

Psilophytina 裸茎植物亜門
Class Psilophytopsida 古生マツバラン綱
phylogenetic relations are unknown (taxonomical group of convenience)
Order

Psilophytales (プシロフィトン/古生マツバラン) Silurian - Permian
Psilophytaceae: Psilophyton Daws.
Fossil records from chert: Rhynia, Psilophyton, Taeniocrada, Cooksonia, Sporogonites

Body plan (structure, 体制)
Subdivision

Lepidophytina (小葉植物亜門) = Microphyllophytina (小葉植物亜門), Lycopodiinae, Lycophytina, Lycopsida
Class Aglossposida (無舌綱)
Order

Protolepidodendrales (古生ヒカゲノカズラ) early Devonian - ending Devonian (partly until Carboniferous)

maostly herbs = secondary growth unproved

Drepanophycaceae: Baragwanathia, Drepanophycus
Protolepidodendraceae: Arachaeosigillaria Kidston, Lepidodendropsis Lutz, Protolepidodendron Krejči
Lycopodiaceae (2 species in existence): after Carboniferous

Fossil species: Lycopodites Brongn, Paurodendron Fry
Class Glossopsida (有舌綱)
Order Protopteridales* (古生シダ): Devonian-Carboniferous Protoptericaceae* (古生シダ): Protopteridium, Svalbardia
Order Cladoxylales* (クラドキシロン): mid-Devonian-Carboniferous
only sporophyts reported, erect above-ground stem, dichotomous or irregular branching, crown developed on the top Taxonomical and phylogenetical positions are not clearly determined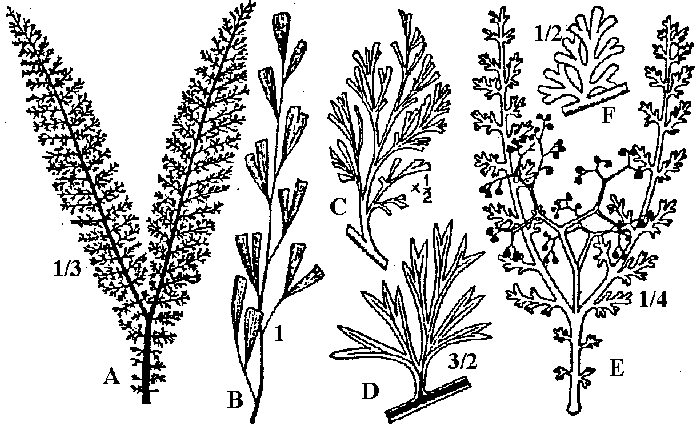 Fig. Lower Carboniferous pteridosperm fronds (石炭紀下部シダ状種子植物). A, Sphenopteridium capillare, complete frond. B, Adiantites machanekii, fragment of frond showing form of ultimate segments. C, Sphenopteris affinis, portion of frond. D, Rhodea smithii, ultimate pinna. E, Diplopteridium teilianum, reconstruction of complete frond with Telangium type of pollen-bearing organs attached. F, pinna of Sphenopteris type, from Diplopteridium teilianum.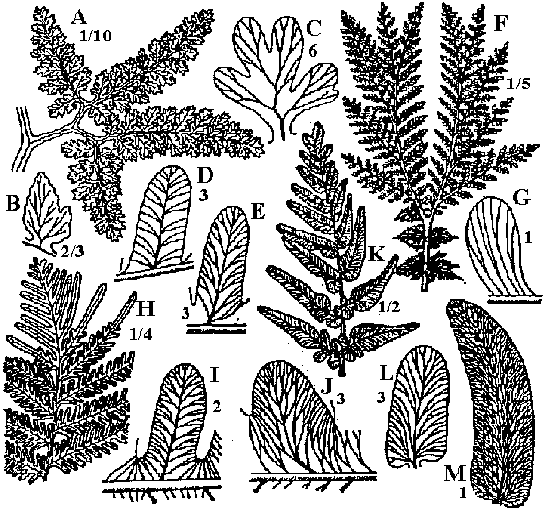 Fig. Upper Carboniferous peridosperm fronds. A, Mariopteris, pinna showing double dichotomy. B, Mariopteris pinnule. C, Sphenopteris pinnule. D, Pecopteris (Asterotheca) daubrei, pinnule. E, Pecopteris armasii, pinnule. F, Odontopteris, complete frond. G, Odontopteris pinnule. H, Alethopteris, apex of frond. I, Aletopteris pinnule. J, Lonchopteris pinnule. K, Neuropteris, apex of frond. L, Neuropteris pinnule. M, Linopteris pinnule.