(First upload on February 22 2007. Last on December 25 2020) [ 日本語 | English ]
Solidago virgaurea L.
Mount Usu / Sarobetsu post-mined peatland
From left: Crater basin in 1986 and 2006. Cottongrass / Daylily
The taxonomy of this group is confusing Lifeform: perennial forb

flora on Mount Koma, Mount Usu

Seed dispersal: wind
ssp. virgaurea (ヨウシュアキノキリンソウ), the type
ssp. asiatica Kitam. ex H. Hara (アキノキリンソウ, 秋ノ麒麟草)

var. asiatica Nakai ex H. Hara (アキノキリンソウ, s.s.)
var. insularis (Kitam.) H. Hara (シマコガネギク)

ssp. leiocarpa (Benth.) Hultén (Koganegiku, コガネギク

/ミヤマコガネギク/ミヤマアキノキリンソウ

, 黄金菊)

Habitat: dry woods, grassland, rocks, cliffs, hedgebanks, dunes, wetlands, etc. on acid or calcareous soils
Synonyms:

- ssp. leiocarpa (Benth.) Hultén f. japonalpestris Kitam.
- var. leiocarpa (Benth.) A. Gray
S. decurrens Lour.
S. paramuschirensis Barkalov
var. ovata (Honda) Ohba, comb. nud. (ハマアキノキリンソウ), Kanto District
var. praeflorens Nakai (ハチジョウアキノキリンソウ)
f. paludosa (キリガミネアキノキリンソウ/ヤチアキノキリンソウ), linear-lanceolate leaves on middle height, wetlands, distributed in Hokkaido

ssp. gigantea (Nakai) Kitam. (オオアキノキリンソウ): large, oval-shaped leaves
Solidago virgaurea in Hokkaido
---
ssp. leiocarpa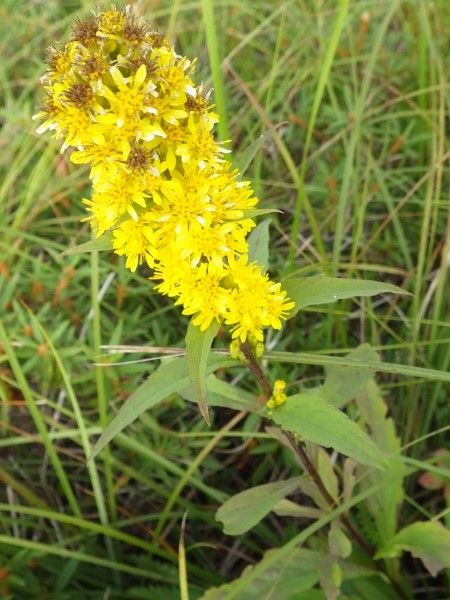 1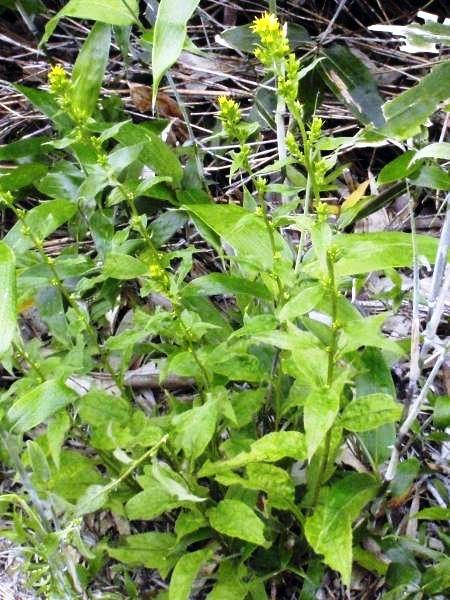 2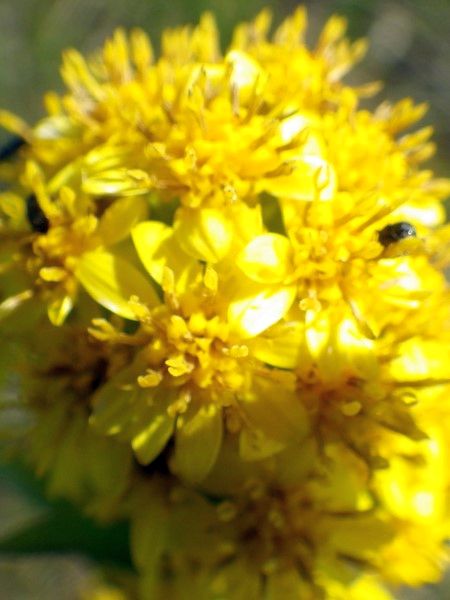 3
[1] in Shibetsu wetland, eastern Hokkaido, on Augsut 28 2020. [2] on a trail to climb Mount Tomamu (1,239 m elevation) on July 20 2012. [3] along a walkboard in a post-mined peatland near Sarobetsu Visitor Center, northern Hokkaido, on August 28 2018. Records: in Sarobetsu wetland (湿原) on August 20 1989.
Coasts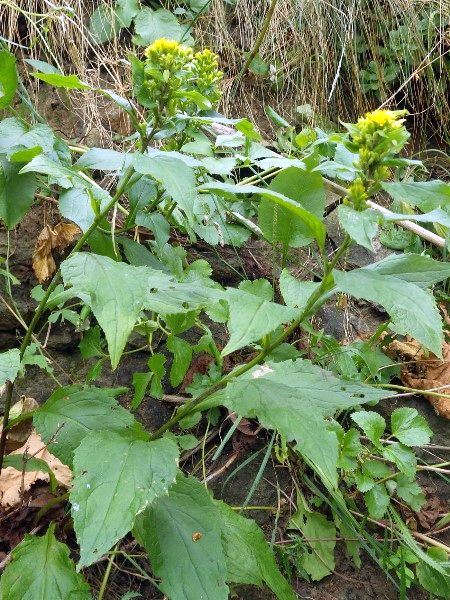 1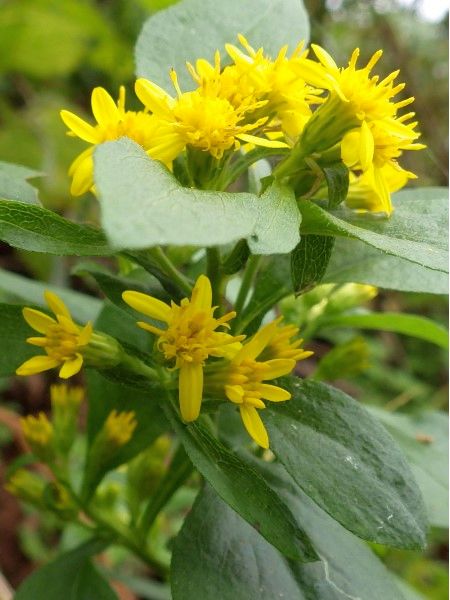 2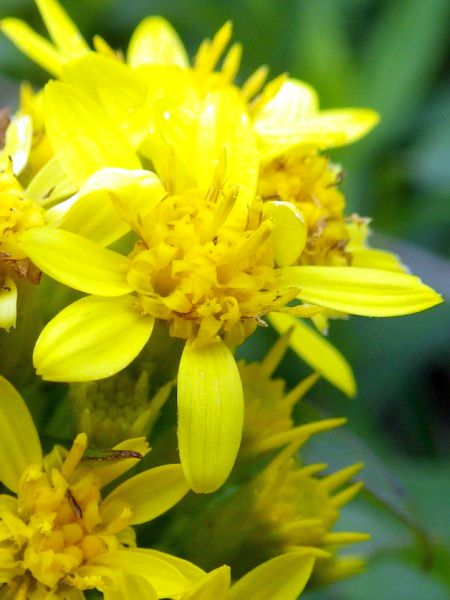 3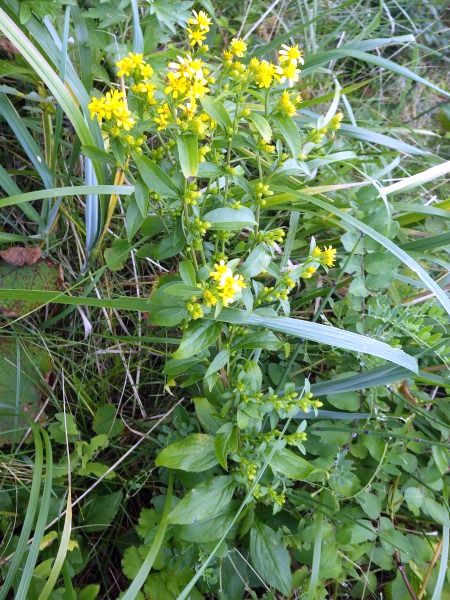 4
[1-3] along a seacoast on the bottom of cliff near the Muroran Marine Experimental Station of Hokkaido University. [1/2] on September 11 2017. [3] on September 9 2019. [4] along Zenibako Coast (銭函海岸), where wind powers are estabished, on November 16 2020. Records: along a walkboard to go Todowara in Notsuke Peninsula, eastern Hokkaido, on August 28 2020.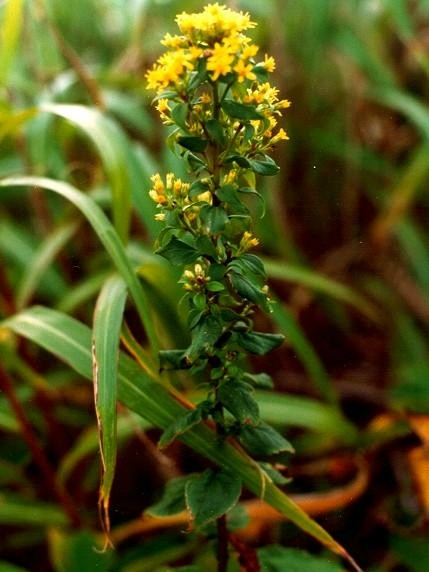 1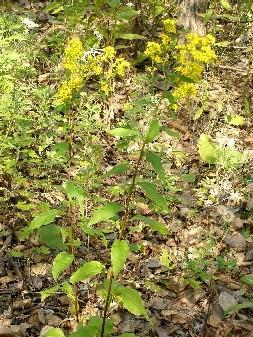 2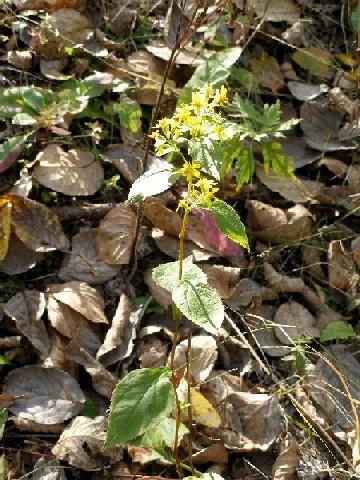 3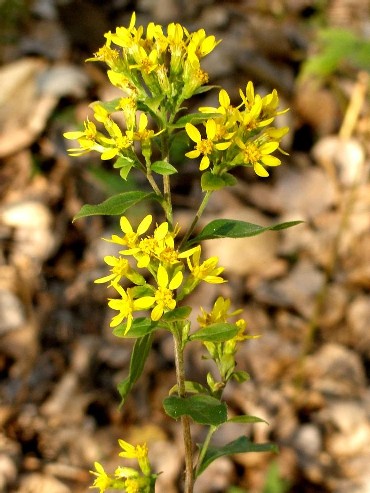 4
[1] Mount Esan: close to a Quercus dentata forest in early October 1983. [2-4] Mount Usu: in the crater basin on September 19 2008.