(First upload on January 7 2008. Last on November 12 2010) [ 日本語 | English ]
Lycopodium obscurum L.
Mount Usu / Sarobetsu post-mined peatland
From left: Crater basin in 1986 and 2006. Cottongrass / Daylily
---
L. alpinum L. チシマヒカゲノカズラ

var. planiramulosum Takeda ミヤマヒカゲノカズラ

L. annotinum L. スギカズラ
L. casuarinoides Spring ヒモヅル
L. carolinianum L. イヌヤチスギラン
L. cernuum L. ミズスギ
L. chinense Christ ヒメスギラン
L. clavatum L. ヒカゲノカズラ
L. complanatum L. アスヒカズラ

L. cryptomerinum Maxim. スギラン
L. cunninghamioides Hayata コウヨウザンカズラ
L. fargesii Hert. ヒモスギラン
L. hamiltonii Spr. ナンカクラン
L. inundatum L. ヤチスギラン
L. laxum Spr. ボウカズラ
L. nikoense Franch. et Savat. タカネヒカゲノカズラ
L. obscurum L. マンネンスギ
L. phlegmaria L. ヨウラクヒバ

L. salvinioides (Hert.) Tagawa ヒメヨウラクヒバ
L. selago L. コスギラン

var. patens Desv. エゾノコスギラン
var. selago チシマスギラン

L. serratum Thunb. トウゲシバ
L. sieboldii Miq. ヒモラン

var. christensenianum (Christ et Hert.) Tagawa リュウキュウヒモラン

L. somae Hayata コスギトウゲシバ
---
Mannensugi (マンネンスギ, 万年杉), rare clubmoss, or ground pine
Lifeform: evergreen perennial fern, with deep, creeping rhizomes. Stems erect (< 30 cm high)
Distribution: northeast North America, northeast Asia
Habitat: mosit sites (not always)

→ Mount Koma: flora, vegetation (植生)

Morphology: highly variable (Kurata & Nakaike (2004) discarded the following two varieties)
f. obscurum ウチワマンネンスギ, Hokkaido and Honshu (rae in south to central Honshu, fan-like branching shpae with dimorphic leaflets
f. strictum (Milde) Nakai タチマンネンスギ, most common in Japan, isomorphic branchlet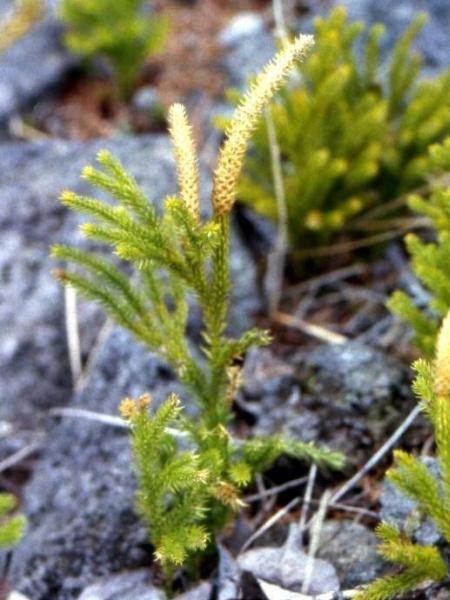 1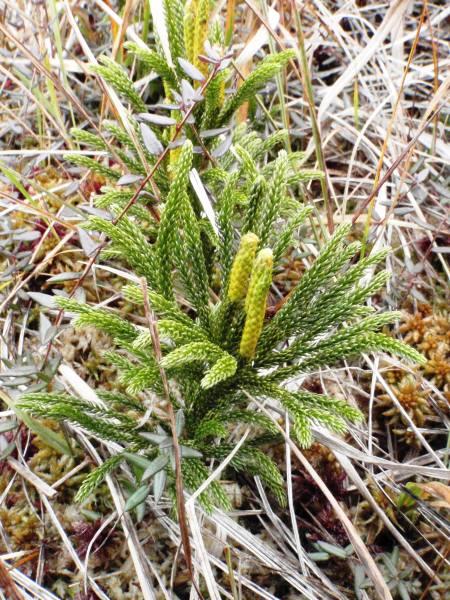 2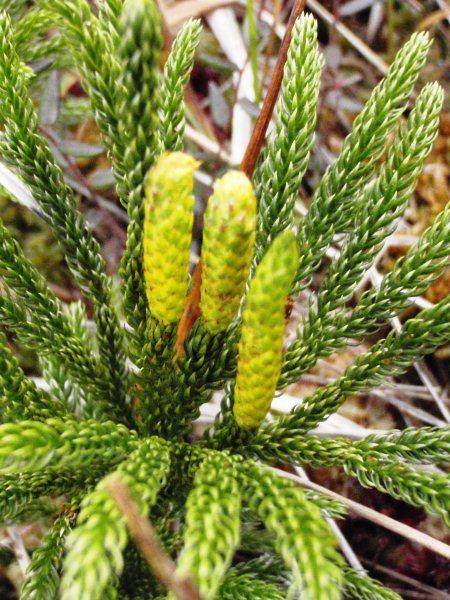 3
[1] on the middle slope of Mount Koma on May 9 2001. [2/3] in a post-mined peatland on Sarobetsu mire, northern Japan, on October 12 2010.