(First upload on October 22 2008. Last on September 6 2013) [ 日本語 | English ]
Vitis coignetiae Pulliat.
Mount Usu / Sarobetsu post-mined peatland
From left: Crater basin in 1986 and 2006. Cottongrass / Daylily
---
V. amurensis Rupr. (シラガブドウ)
V. coignetiae Pulliat ex Planch. (ヤマブドウ)
V. ficifolia Bunge var. sinuata Hara (キクバエビヅル)
V. flexuosa Thunb. (サンカクヅル)

var. rufotomentosa Makino (ケサンカクヅル)
var. tsukubana Makino (ウスゲサンカクヅル)

V. quiqueangularis Rehd. (クマガワブドウ): Kyushu, endangered
V. saccharifera Makino (アマヅル)

var. yokogurana (Makino) Ohwi (ヨコグラブドウ)

V. thunbergii Sieb. et Zucc. (エビヅル): Japan (south to southwestern Hokkaido) - Korea

var. izu-insularis Tuyama (シチトウエビヅル)
---
Yamabudou (ヤマブドウ, 山葡萄), crimson glory vine
Lifeform: deciduous vine
Distribution: Korea - Japan (north to Honshu and Shikoku)

Habitat: forest edge, gap, etc.
Seed dispersal: endo-zoochore (animal)

Utilization: edible and ornamental
var. glabrescens Nakai (タケシマヤマブドウ)

⇔ Ampelopsis glandulosa (ノブドウ)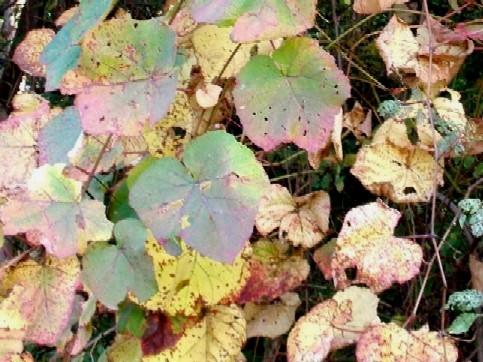 4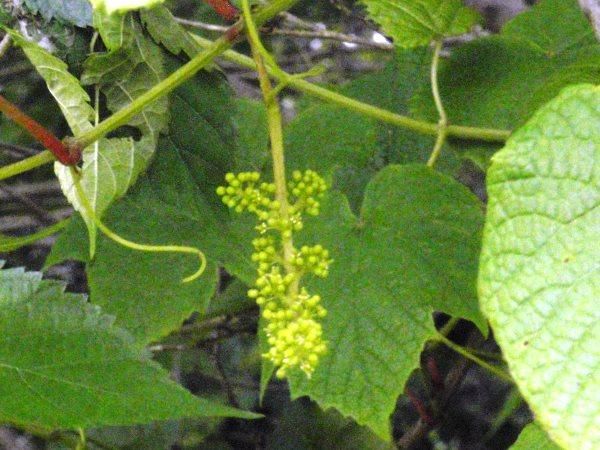 5
[1] inflorescences on June 13 2010. [2-4] on October 19 2008. [1-4] in Hokkaido University Campus (N11/W5). [5] immature fruits at a small branch of Satsunai River, central Hokkaido, on June 26 2013.