(First upload on October 10 2009. Last on September 20 2021) [ 日本語 | English ]
Hypericum erectum Thunberg
Mount Usu / Sarobetsu post-mined peatland
From left: Crater basin in 1986 and 2006. Cottongrass / Daylily
---
Engler: Guttiferae(Engler) → chagned to Hypericaceae

[Engler's syllabus (エングラー体系)]

Cronquist: Clusiaceae = Clusioideae + Hypericoideae
APG: Clusiaceae (フクギ) (= Clusioideae) + Hypericaceae (= Hypericoideae)
560 species in 9 genera
Triadenum Raf. (ミズオトギリ)
Sarothra L. (ヒメオトギリ) when established ⇒ merged into Hypericum

S. saginoides Y. Kimura (ホソバヒメオトギリ) = H. gramineum G. Forst.


S. japonica (Thunb.) Y. Kimura (ヒメオトギリ), pale glands = H. japonicum Thunb. (ヒメオトギリ)
S. laxa (Blume) Y. Kimura (コケオトギリ), pale glands = H. laxum (Blume) Koidz.

Hypericum L. (オトギリソウ)
Garcinia L. (フクギ)

---
H. androsaemum L. (コボウズオトギリ)
H. asahinae Makino (ダイセンオトギリ
H. ascyron L. (トモエソウ, s.l.)
H. attenuatum Fisch. ex Choisy (シナオトギリ)


f. confertissimum (Nakai) T. B. Lee ex W. T. Lee (オオオトギリ)

H. calycinum L. (セイヨウキンシバイ)
H. erectum Thunb. (オトギリソウ)
H. formosanum Maxim. (タイワンキンシバイ)
H. fragile Herdr. et Sart. ex Boiss. (トモエオトギリ)
H. frondosum Michx. (アメリカオトギリ)
H. furusei N. Robson (フルセオトギリ), Shibetsu in Hokkaido
H. geminiflorum Hemsl.


var. geminiflorum (ニリンオトギリ)
var. simplicistylum (Hayata) N. Robson (ノウコウキンシバイ)


H. gracillimum Koidz. (オクヤマオトギリ)
H. gramineum G. Forst. (ホソバヒメオトギリ)
H. hachijyoense Nakai (ハチジョウオトギリ)
H. hakonense Franch. et Sav. (コオトギリ)
H. iwatelittorale H. Koidz. (シオカゼオトギリ), Iwate
H. japonicum Thunb. (ヒメオトギリ)
H. kamtschaticum Ledeb. (ハイオトギリ)
H. kawaranum N. Robson (カワラオトギリ)
H. kimurae N. Robson (ミネオトギリ)
H. kinashianum Koidz. (ミヤコオトギリ)
H. kitamense (Y. Kimura) N. Robson (キタミオトギリ)

H. gracillimum Koidz.

var. kiusianum (ナガサキオトギリ)
var. yakusimense (Koidz.) T. Kato (ヤクシマコオトギリ)


H. kurodakeanum N. Robson (エゾヤマオトギリ), Daisetsu in Hokkaido
H. laxum (Blume) Koidz. (コケオトギリ)
H. majus (A. Gray) Britton (オオカナダオトギリ)
H. momoseanum Makino (セイタカオトギリ), central Honshu
H. monogynum L. (ビヨウヤナギ)
H. mutilum L. (トミサトオトギリ)
H. nagasawae Hayata (ニイタカオトギリ)
H. nakaii H. Koidz.


ssp. miyabei (Y. Kimura) N. Robson (トウゲオトギリ)
ssp. nakaii (サマニオトギリ)
ssp. tatewakii (S. Watan.) N. Robson (シラトリオトギリ)


H. nakamurae (Masam.) N. Robson (セイスイキンシバイ)
H. nikkoense Makino (ニッコウオトギリ)
H. nokoense Ohwi (ノウコウオトギリ)
H. nuporoense N. Robson (ヌポロオトギリ)
H. oliganthum Franch. et Sav. (アゼオトギリ)
H. olympicum L. (フデオトギリ)
H. ovalifolium Koidz. (オオシナノオトギリ, s.l.)


ssp. hisauchii (Y. Kimura) N. Robson (トガクシオトギリ)
ssp. ovalifolium (オオシナノオトギリ)

H. patulum Thunb. (キンシバイ)

H. perforatum L. (セイヨウオトギリ, s.l.)
H. pipairense (Miyabe et Y. Kimura) N. Robson (オオバオトギリ)
H. polyphyllum Boiss. et Balansa (ハナオトギリ)
H. pseudoerectum N. Robson (タニマノオトギリ), Jozankei in Hokkaido
H. pseudopetiolatum R. Keller (サワオトギリ)
H. repens L. (ハリガネオトギリ)
H. sampsonii Hance (ツキヌキオトギリ)
H. senanense Maxim.


ssp. mutiloides (R. Keller) N. Robson (イワオトギリ)
ssp. senanense (シナノオトギリ)


H. senkakuinsulare Hatus. (センカクオトギリ), Ryukyu
H. sikokumontanum Makino (タカネオトギリ)
H. taiheizanense Sasaki ex Suzuki (タイヘイオトギリ)
H. tetrapterum Fr. (シカクオトギリ)
H. tomentosum L. (ビロードオトギリ)
H. tosaense Makino (トサオトギリ), eastern Honshu
H. uralum Buch.-Ham. ex D. Don (ヒマラヤキンシバイ)
H. vulcanicum Koidz. (オシマオトギリ)
H. watanabei N. Robson (クロテンシラトリオトギリ)
H. yamamotoanum H. Koidz. (センゲンオトギリ)
H. yamamotoi Miyabe et Y. Kimura (マシケオトギリ)
H. yezoense Maxim. (エゾオトギリ)
H. yojiroanum Tatewaki et Koji Ito (ダイセツヒナオトギリ)

---
Otogirisou (オトギリソウ, 弟切草), upright St. John's wort
Lifeform: deciduous perennial forb < 60 cm high
Distribution: China - Korea - Japan

⇒ flroa on: Mount Koma and Flora on Mount Usu

Habitat: grasslands and sparse forests
Leaf: sparse black spots
Chromosome number: 2n = 16

var. erectum f. erectum (オトギリソウ, s.s.)
var. caespitosum Makino (フジオトギリ), local
var. longistylum (Y. Kimura) Y. Kimura (オクヤマオトギリ, ニッコウヤマオトギリ), local (syn. H. gracillimum Koidz.)
var. parviflorum (Y. Kimura) Y. Kimura (エゾヤマオトギリ), local
var. subalpinum (Y. Kimura) Y. Kimura (シナノヤマオトギリ), local
var. deviatum Y. Kimura (ニセオトギリ)
f. perforatum Y. Kimura (メイテンオトギリ)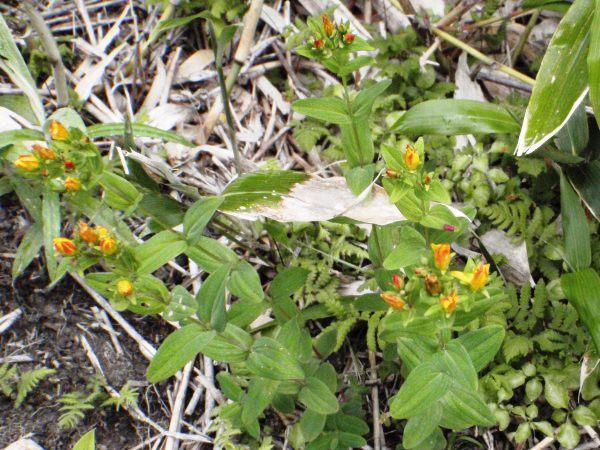 1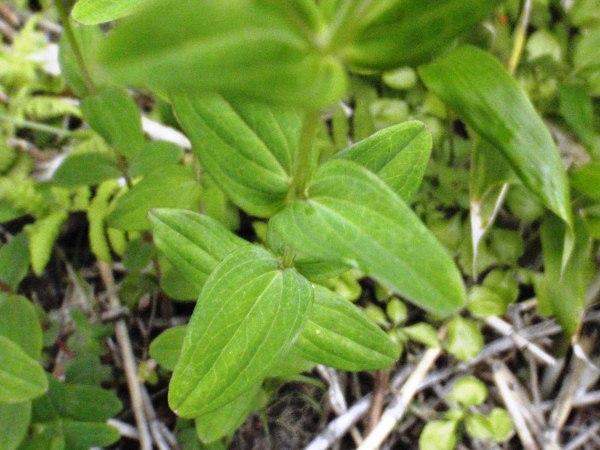 2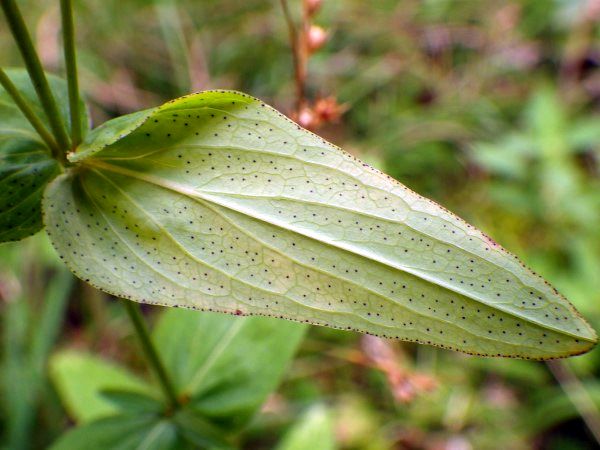 3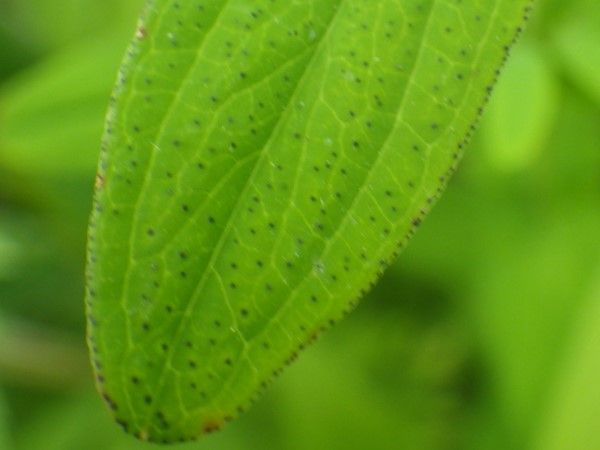 3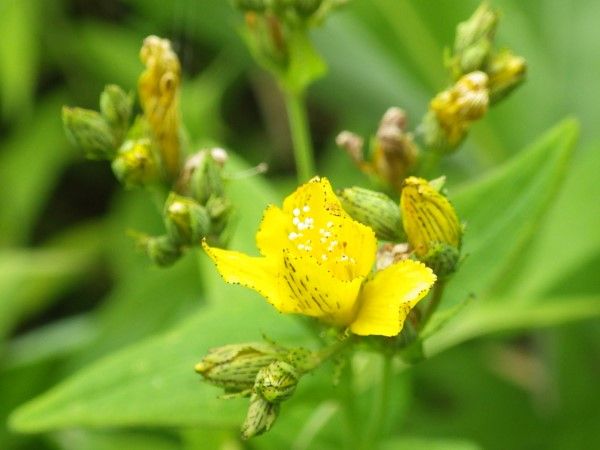 3
[1/2] on a trail to go Mount Tomamu (1,239 m elevation) on July 20 2012. [3] along a stream in the Tomakomai Experimental Forest of Hokkaido University on September 12 2019. [4/5] along O-sawa Course in Nopporo Forest Park on July 17 2021.
Hypericum erectum on volcanoes in Hokkaido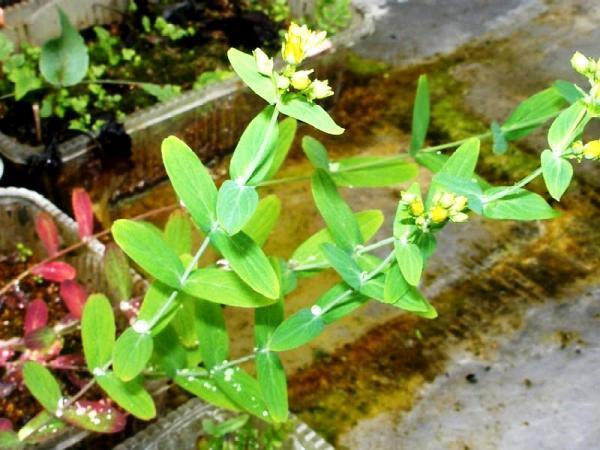 1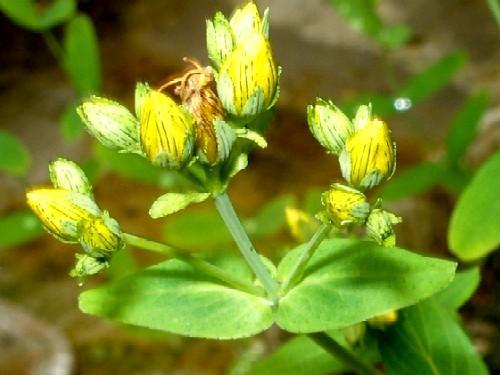 2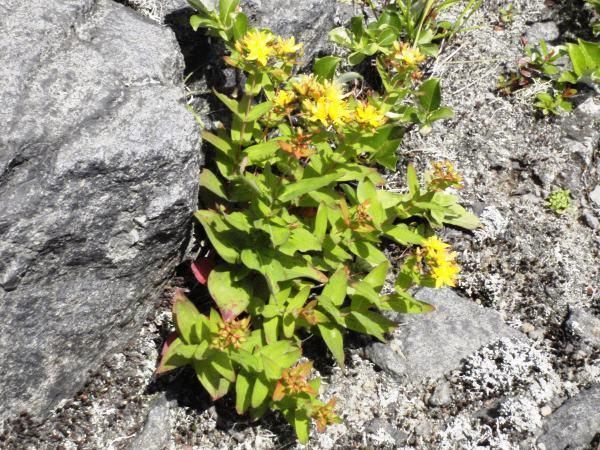 3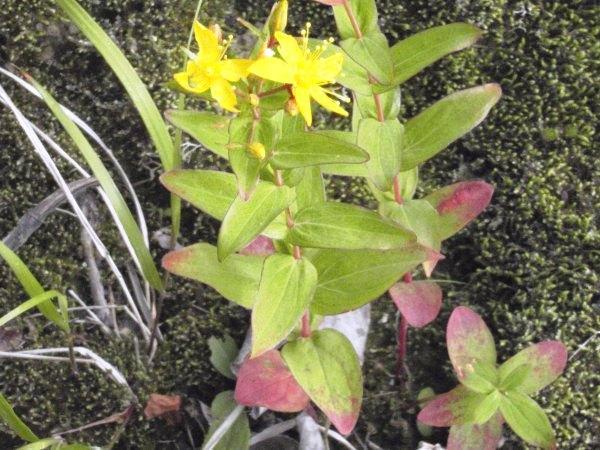 4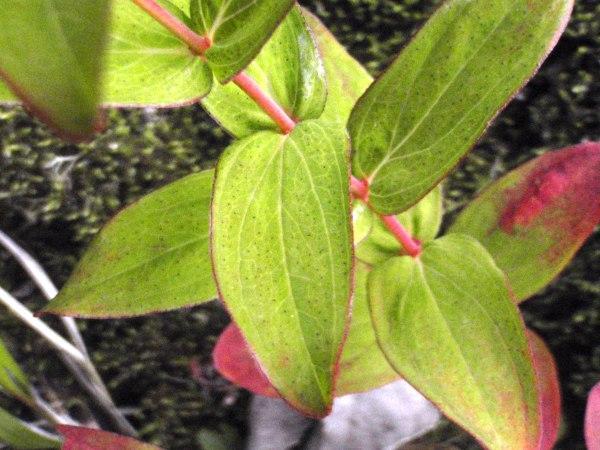 5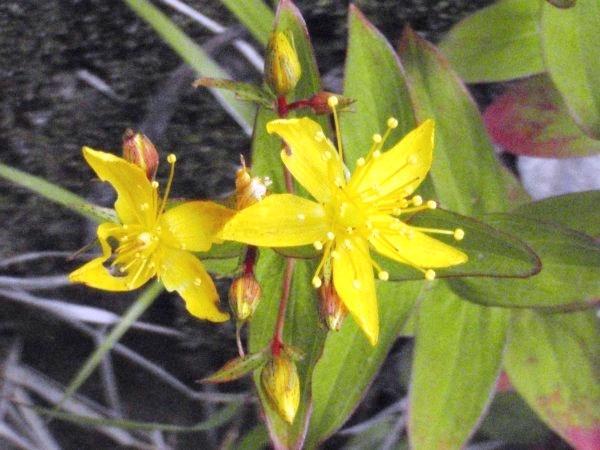 6
[1/2] seedlings emerged from seeds in the former topsoil on Mount Usu. The topsoil was collected in September 2008. Plants grew on July 14 2009 in the greenhosue of Center of Advanced Science and Technology (CAST), HU. [3-6] on the summit area of Mount Koma on July 21 2011. Note: One species, H. erectum is reported in Flora of Mount Usu (Hara 1978). Lab-experiment on seedbank (埋土種子) in the former topsoil of Mount Usu: Seedling emergence began one week after seed-sowing, and ceased about 20 days later (Tsuyuzaki & Goto 2001). The species have only black gland → non-exotic.