Table 1. Types of seedbank estimation (After Tsuyuzaki 1990)
Germination: sowing soil on pot


easy way




waste long time (occasionally more than 6 months), low accuracy (all seeds do not always germinate)


low seed recovery rate in general
Hand sorting: power play under a binocular stereomicroscope


easy way




restricted sample volume, Boring job


high seed recovery rate
Sieving: seiving with various mesh sizes


easy way, quick treatment




difficult to extract all sedds, in particular, small seeds


seed recovery rate depending on the soil sample
Flotation: seeds floated by a high-concentration solution


quick treatment, high seed recovery




complicated manipulation, seeds damaged by flotation solution


very-high seed recovery rate
(Feast & Robert 1973)
Germination test
for the estimation of the density of buried seeds
Weigh soil and place into earthenware dishes (10 cm in diameter)
↓ soil thickness = 0.5 cm (ca. 40 cm³) and 1.0 cm (ca. 80 cm³)
↓ three replications = 40 × 3 + 80 × 3 = 360 cm³
Place into an incubator
↓ Add water as necessary
↓ Stirs sample soils every 2 months (not necessarily)
Count number of seeds germinated

Improved germination test
Washing soil samples by coarse and fine sieves

Coarse = 4.00 mm mesh width
Fine = 0.212 mm

= concentrated samples [and greenhouse space]
[Sample soils = clay, peaty, and sandy soils]

|

Spreading in a 3-5 mm thick layer on sterilized potting compost
Seedling emerged more than by unconcentrate samples
Hand-sorting afterwards shows that the germination rates vary between 81 and 100% of the viable seeds present
95% seedlings emerge within 6 weeks
Concentrating samples can lead to seed losses in soil bank estimations
Concentration, C

Traba et al. (1998) = 0.100 mm-diameter sterile nylon mesh

[ter Heerdt et al. (1996) = 0.212 mm in mesh width]

vs

Non-concentration, NC
Seedling emergence (/432 cm³)
C

__

199.7 ± 79
NC

_

161.5 ± 11.8
P < 0.001 (paired t-test, n = 10)
No significant difference in the number of species per sample (P = 0.153, n = 10)
Seven species (Crassula tillaea, Hernaria hirsuta, Sagina apetala, Teesdalia coronopifolia, Trifolium arvense, Tuberaria gutata and Vulpia spp.)

NC > C (Wilcoxon range test, P < 0.05)
Those species produce small seeds.
Discriminant criteria on seed survival (種子生死判別)
TTC staining on seed embryo for viability check
Procedure: 0.6% TTC solution (pH 6-7 adjusted by 20 mM K2HPO4 or K2HPO4) → Cut seed vertically → Place them for 24 hr in the dark → Inspect the embryo under a binocular stereomicroscope
Preparation of artificial buried-seed populations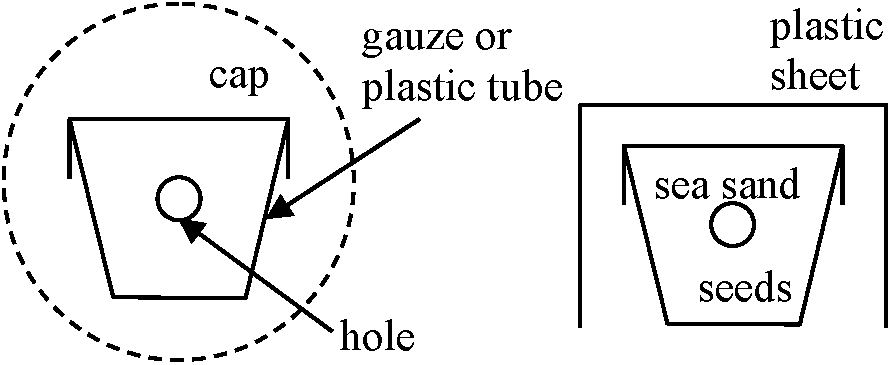 Seeds
↓ mixed with sea sand (not necessarily)
↓ Packed into a holed plastic tube
Seeds burial into soil at any soil depths

Small plastic capsules, each of which contains 50 seeds and sea sand, are buried into soil. Four pin holes were drilled through each capsule so that the contents of air and humidity might equilibrate with those outside.