1. None
2. Diffuse nerve system (散在神経系): acceptor (受容体) ← operator (作動体)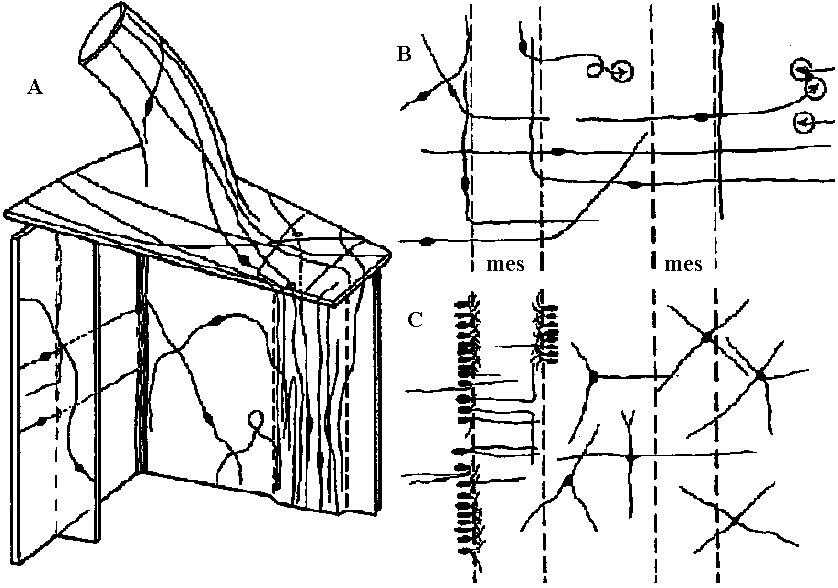 Fig. 3.7. Neuron pathways adjoining the mesenterices of anemones. A. Simplified innervation of portion of the anemone Mimetridum, showing individual bipolar neurons that run from body wall to mesenteries, from mesenteries to the ectoderm of the oral disc (via holes through the oral disc), and from oral disc to tentacle. The ectoderm of the tentacle is thus anatomically connected with the retraction system of the column, not only via the epithelium of the mouth. The presence of these bipolar cells sets a problem as to how the tentacles are coordinated without, spread of cxcitation to the column, implying a second conduction system in the disc. B. Bipolar neurons, similar to those in A, inside the column in the sphineter region of Calliactis. 'I'hc vcrticcal broken lines represent two mesenteries (mes) seen end on where they meet the outer wall. The bipolar axons pass around the body wall and through the mesenteries, as in A. C. Another system of cells superimposed on those of B. The unipolar cells are probably sensory. The multipolar neurons make connections with sensory and bipolar neurons. (A, Bathham 1965; B & C, Robson 1965)
3. Concentrated nerve system (集中神経系)

Acceptor ← central nerve system (integration, decision) ← operator

a. Ladder-like nervous system (梯子状神経系)
= ganglionic nervous system (神経節神経系)



Fig. 9.1. Examples of the plan of the nervous system in representative turbellarians. (Left to right: Westblad 1949, Reisinger 1926, Hyman 1943, Lang 1881 & Hyman 1951)

Ex. Basically, all the nerve system of insects is ladder-like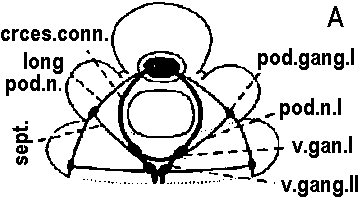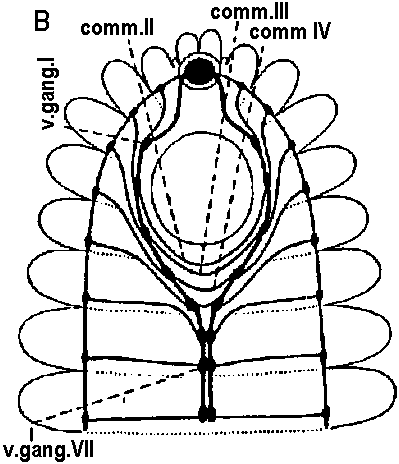 Fig. 14.7. A primitive and a more highly derived arrangement of circumesophageal nervous structures. A. Paramphinome. B. Hermodice (Gustafson 1930). crces. cann., circumesophageal connective; comm. II-IV. commissures of ventral ganglia II-IV; long. pod. n., longitudinal podial nerves (lateral nerve cord); pod. gong. I, first podial ganglion; pod. n.I, first podial nerve; sept., intersegmental septum; v. gang. I-II, first or second ventral ganglion.


Figure 14.13. Diagrammatic transverse section of a nereid ganglion to show (1) the position of the long-axon longitudinal tract, (2) the directions of the long internuncial axons through the neuropile prior to their entry into the tracts, (3) the distribution of the short-axon internuncials, primarily confined in their collateral branchings to the dorsal neuropile, (4) the course and destination of the sensory fibers in fine-fiber longitudinal tracts, and (5) the course of the motor axons through the dorsal neuropile. The dorsal neuropile containing the greatest concentration of internuncial branchings is the more densely stippled (Smith 1957). c., cort. d.lot., dorsolateral sector of the cell cortex of the ganglion; c.cart. v., ventral sector; c.cart.v.lot., ventrolateral sector; tr. d. lot., dorsolateral.
b. Tubular nervous system 管状神経系

Central nerve (integration, decision) ←
brain (cerebrum, diencephalon, midbrain, cerebellum, medulla, spinal cord)
⇔
Peripheral nerve (末梢神経): transmission = sensory nerve, motor nerve, automatic nerve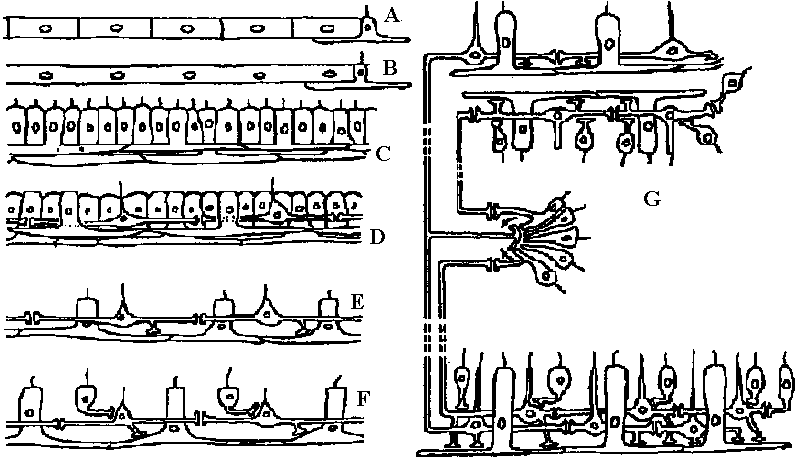 Fig. 4.8. The origin of the nerve cell. Hypothetical evolution of nerve nets in epithelial systems of ctenophores and coelenterates. A/B, conducting epithelium lending to nn epithclinl muscle cell. C, muscle cells connected by their tails. D, as in C, but with epithelial cells with processes that connect only with each other and bridge over intervening cells. This is the critical stage of appearance of axons, and there is no clue as to which type of cell gave rise to them. E, conacctions to muscle cells. F, origin of sensory cells, after the appearance of conducting systems. G, the situation in medusae and some other eoelenterates. There are 2 separate conducting systems, with separate sensory inputs and motor outputs; one system acts on the other at a definite place, as in the marginal ganglion in jellyfish.
Invertebrate (無脊椎動物)
Origin of neurons = epithalial cell (上皮細胞)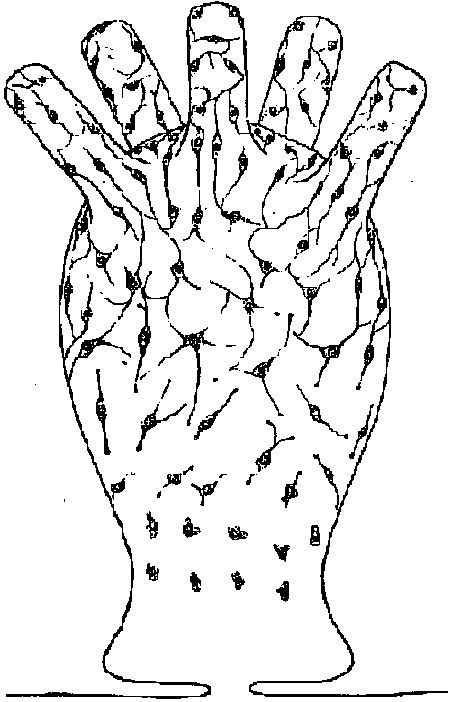 Fig. 8.40. A bud of Hydra,
showing in the maturation
of the nerve net and the
secondary fusion of
processes. Methylene blue
by Rongalit white method
(McConnell 1932)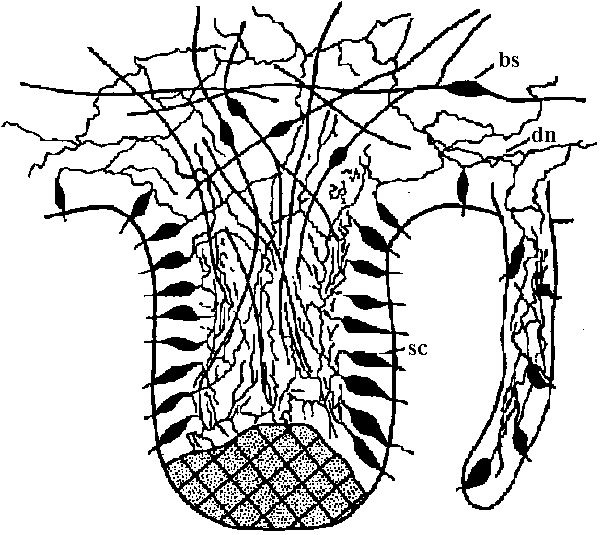 Fig. 3.11. Hypothetical organization of
a jellyfish ganglion, showing the three main
nervous structures that have so far been
distinguished: the sensory cells of the
ganglion (sc) the bipolar cells (双極細胞) of the motor
nets (bs) with obvious contact synapses,
and the difuse nerve net of the bell (dn),
which has connexions with the other
two neuron types in the ganglion. The shaded area represents the region of calcareous particles of the statolith.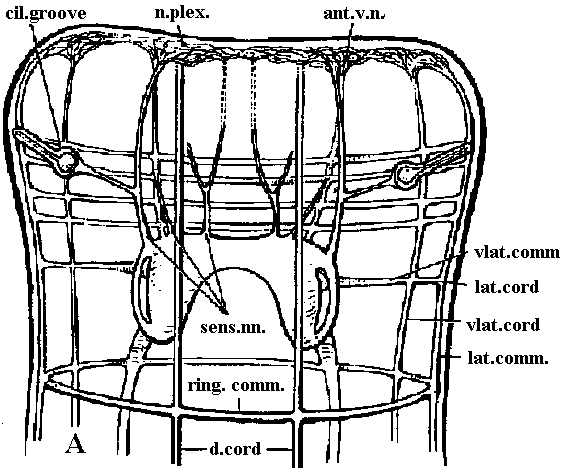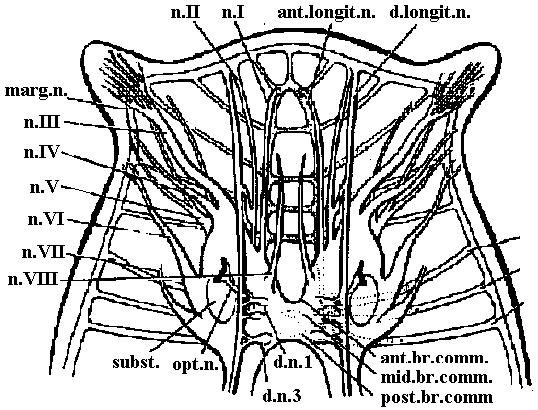 Fig. 9.6. Diagrams of the brain and anterior nerves. A. Geocentrophora baltica (Steinbock 1927). B. Planaria alpina (Micoletzky 1907). ant.br.comm., anterior brain commissure (接合部, 交連部); ant.longit.n., anterior longitudinal nerve; ant.v.n., anterior ventral nerve; cil.groove, ciliated groove; d.cord, dorsal cord; d.conn., dorsal connective; d.longit.n., dorsal longitudinal nerve; d.n.1 and d.n.3, dorsal nerve 1 and 3; lot.comm., lateral commissure; lat.cord., lateral longitudinal cord; lot. n. 1-3, lateral nerves 1-3; morg.n., marginal nerve; mid.br.comm., middle brain commissure; n.plex., peripheral nerve plexus; n. I-VIII, cerebral nerves 1-8; opt.n., optic nerve; post.br. comm., posterior brain commissure; ring comm., ring commissure; sens.nn., sensory nerves; subst., "Substanzinsel"; v.comm., ventral commissures; vlat.comm., ventrolateral commissures; viot.cord, ventrolateral cord.



Fig. 11.8. Nematoda. Ascoris, plan of the nervous system, from the ventral side (Goldschmidt 1910, Voltzenlogel 1902). comm., commissure. gang., gangtion. moj.lot.pop.g. with ns.cell, ganglion of major lateral papillary nerve, with neurosecretory cell; n., nerve. A theory (or hypothesis) showing the develpment of basic nerve system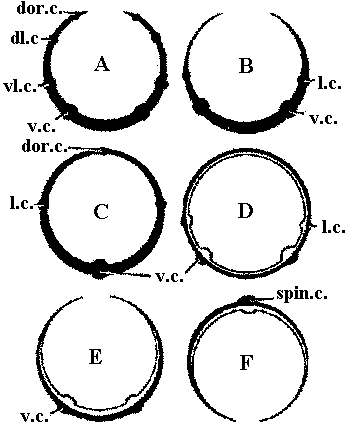 Fig. 1.5. The orthogon theory. Diagrams of cross sections of the central nervous systems of: A. turbellarians with four pairs of longitudinal connectives; B. amphineurans with two pairs; C. nematodes; D. annelids; E. arthropods; and F. vertebrates. Of a series of longitudinal cords one or more may be lost, emphasized, or fused. The transverse connections or commissures between the cords form a series of repeated nervous rings, which remain continuous in some of the higher groups but are broken in others. In the three highest groups it is possible to say that at least to some extent the inner (blackened) parts of the cords and of the nerves emerging from them are mainly sensory, the outer mainly motor. dl. c., dorsolateral cord; dor. c., dorsal cord; l.c., lateral cord; spin. c., spinal cord; vl. c., ventrolateral cord; v. c., ventral cord. (Hanstrom 1928)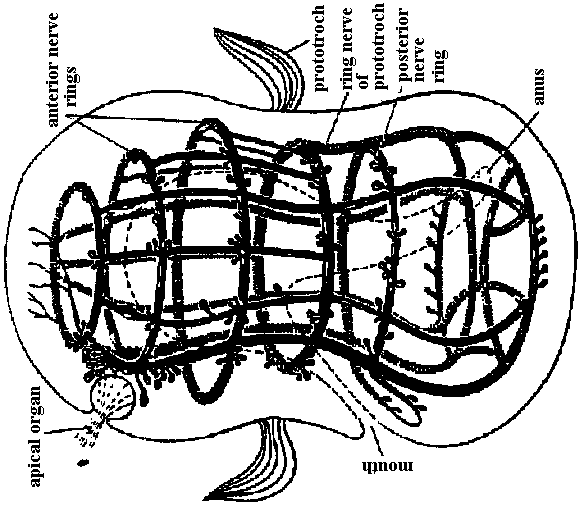 Fig. 14.1. Trochophore larva of Lopodorhynchus, showing the nervous system with its three nerve rings anterior to and one posterior to the prototroch nerve ring and its ciliated apical sense organ. (Hanstrom 1928)


Fig. 380. Diagrams showing the distribution of branchial (dorsal root) cranial nerves. A, Hypothetic primitive condition, with typical nerves to each of two anterior gill slits lost in jawed vertebrates, and a terminal nerve to anterior end of head. B, Condition in jaw-bearing fishes. M, Mouth; 0, 0', anterior gill slits lost in gnathostomes; S. spiracular slit; T, terminal nerve; 1 to 5, typical gill slits of gnathostomes. VII: lower jaw, X, XI: visceral motor (smooth muscle, facial muscle – stricted muscle)



Fig. 16.38. The diversity of arrangement of ventral ganglia in various insects. 1 and 2 do not have a subesophageal ganglion: 3-9 have only one thoracic ganglion; 10-16 have two, and 17-25 three separate thoracic ganglia. 1, Hydrometrcs. Rhizotrogus; 2. Stylops: 3, Musca, Calliphoro, Lucilia, Sardophaga: 4, Ortalis, rrypeto, Conops, Myopa: 5, Syrphys, Volucella; 6, Cyrtus, Oncodes; 7, Stratiomys. Sargus, Haematopata; 8, Tabanus, Chrysops; 9, Panganha; 10, Bastrichus, Aecilius, Melalontha, Cetania; 11,Phora,Gyriflus; 12, Rhynchoenus; 13, Eucera, Crabro; 14, Vanessa, Pontia, Argynnis, Apis ♀♂, 15 Apis (♀♂), Bambus ♀♂, Andraena, Vespa (♀♂), Necrophorus; 16, Asilus, Tipulo, Culex, Bombus ♂, (♂♀), 17, Geotrupes, Aphodius, Areuchus; 18, Coccinello 5-punctota ♀. Scaphidium, Hister; 19, Harpolus. Chrysomela. Lmna; 20, Mutmlla rufipes ♂; 21, Mutilla eurapoea ♂. 22, Hepiahis, Sciara, Silpha; 23, Chiranamus. Cicindela, Blotto; 24, Telephorus. Lampyris ♀, Tenthreda, Sirex, Pulex ♀; 25, Pteronorcis. Dictyapterus, Pulex ♂. (Brandt 1878-1879)



Fig. 23.63. Scheme of the principal forms of distribution of ganglia in cephalaspids (first nine genera) and anaspids (Aplysia and Notarchus) (Gulart 1901). c., cerebral ganglion; os., osphradium; p., pedal ganglion; ph., pharynx: 1 and 7, pleural ganglia; 2 and 6, parietal ganglia; 3 and 5, supra- and subintestinal ganglia; 4, visceral ganglion.



Fig. 16.32. Neurons of the ventral cord of the embryonic lobster, a, ascending interneurons with decussation; b, descending interneurons with decussation; c, two large descending interneurons from the brain and two smaller ones of the cord without decussation; d, abdominal motor axons having synapses between the symmetrical axons of the two sides; a, ascending and descending short interneurons with characteristic arrangement of synaptic contacts; f. examples of motoneurons with more than one axon, and other neurons described in the text; g, typical motoneurons; h, single neurons of the pairs shown in d, illustrating the units of which the pairs are composed. (Allen. 1894. 1896)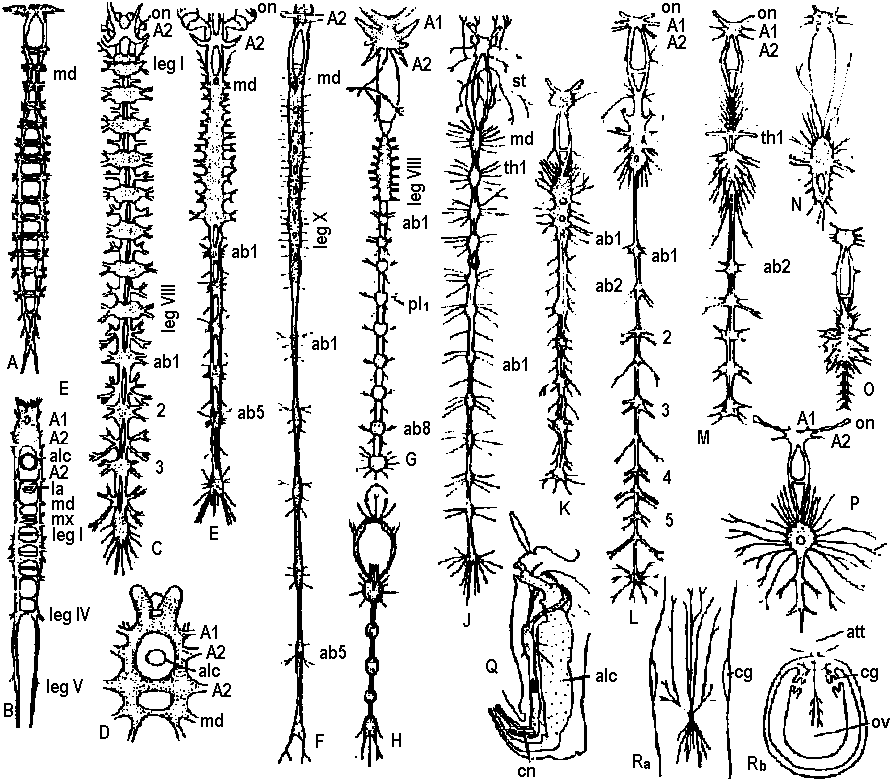 Fig. 16.26. Degrees of condensation of the ventral cord in some representative Crustacea. Since the anterior limit of the thorax is not sharply defined in many groups, the landmarks are mainly given with reference to the appendages. Most of these are taken from old figures in which smaller nerves were omitted. A. Anostraca, Branchipus venous (Hilton 1934). B. Cladocera, Simocephalus sima (Cunnlngton 1903). C. Amphipoda. Gammarus neglectus (Sars 1867). D. Cirripedia larva. nauplius of a pedunculate barnacle, showing the postoral second antennal region and commissure (Chun 1896). E. Mysidacea, Mysis relicta (Sars 1867). F. Euphausiacea, Euphausia superba (Zimmer. 1913). G. Stomatopoda, Squilla mantis (Giesbrecht 1913). H. Cirripedia, pedunculate barnacle (Hanstrom 1928). J. to P. Selected Decapoda (Balss 1944). J. Homarus. K. Pagurus. L. Paloemon. M. Golotheo. N. Palinurus. O. Parcellana. P. Carcmnus. Q. Parasitic Cirripedia, Acrothoracica, Cryptophialus (Berndt 1903). R. Parasitic Cirripedia. Rhizocephala, Peltagaster; (a) from ventral side, (b) transverse section (Delage 1886). ab 1, first abdominal ganglion; pl1, first pleopod nerve; th 1, first thoracic ganglion; Al, antennule nerve; A2. antenna nerve; alc., alimentary canal; att., attachment; cn, 6 nerves to cirri; cg, cement gland; la, labral nerve; md, mandible nerve; mx, first maxilla nerve; an, optic nerve; ov, ovary; st, roots of stomatogastric system.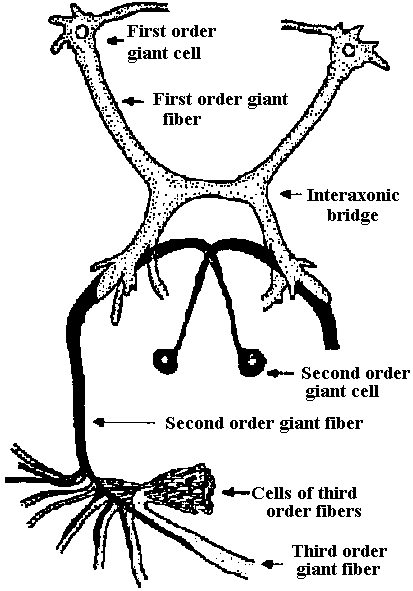 Fig. 20.8. The sequence of first, second, and third order giant neurons in the squid (Loligo pealii). The synapse between the second and third order giant fibers has been the one particularly studied. Note that the axons of the third order giant fibers arise by fusion of cell processes of several neurons. (Young 1939)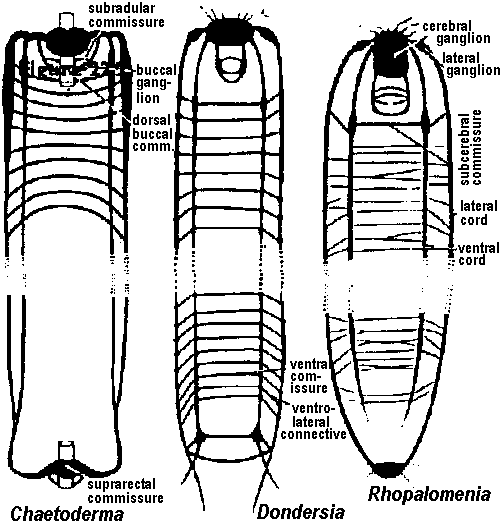 Fig. 22.2. Plan of the nervous system in Aplacophora three genera, showing degrees of regularity and completeness of the commissures (Wiren 1982, van Lummel 1930)


Fig. 6.6. Interneurons have evolved as giant fibres in a wide range of worms, usually acting as the fast pathways in general shortening of the body. Only one limitation is placed on the structure – that it be adequate. Even at this level there is no one-to-one relation between structure and response. 1-2, Euthalenessa; 3, Sigalion; 4, Lepidasthenia and Euthalenessa; 5-6, Lumbricus; 7, Euthalenessa; 8, Eunice; 9 and 10, Nereis and Neanthes; 11-12, Arenicola; 13, Nereis and Neanthcs; 14-15, Halla and Agiaurides; 16, Mastobranchlcs; 17 Sabella and Spirographis; 18, Myxicola (Nicol 1948)



Fig. 17.11. Stereograms of a ganglion in the ventral nerve cord of the annelids Nereis diversicolor and Platynereis domerilii. The general arrangement of nerve cells in tile two species is similar. Imagine all three diagrams superimposed to gct an impression of the complexity of the organization of the annelid central nervous system. Four systems of neurons are shown: A, the giant neurons (giant fiber system); B, interneurons; C, sensory (fiber) and motoneurons. The nerve roots are indicated in roman numerals. The part of a septum (sept.) shown indicates the boundary between two body segments. There are five giant neurons: one dorsal (g.fib.d.), two paramedial (g.fib.p.m.), and two lateral (g.fib.lat.). The soma, or perikaryon, of the lateral giant fibers is not known, but these neurons are not longer than one segment: they form a wedge-shaped synapse (syn.) with the corresponding neuron of the next ganglion. The paramedial giants likewise reach only from one ganglion to the next; the two cross twice, then make synaptic contact with the corresponding cells in the next, anterior ganglion. The cell body or bodies of the dorsal giant fiber are situated in the subesophageal ganglion. This fiber runs uninterruptedly the whole length of the nerve cord. Certain motor neurons (neur.mot.) make synaptic contact with the lateral giant fibers. The neuropile is not shown in the diagrams. (Smith 1957)



Fig. 11. Diagram to illustrate the supposed transformation of an annelid worm into a vertebrate. In normal position this represents the annelid with a "brain" (s) at the front end and a nerve cord (x) running along the underside of the body. The mouth (in) is on the underside of the animal, the anus (a) at the end of the tail; the blood stream (indicated by arrows) flows forward on the upper side of the body, back on the underside. Turn the book upside down and now we have the vertebrate, with nerve cord and blood streams reversed. But it is necessary to build a new mouth (st) and anus (pr) and close the old one; the worm really had no notochord (nt); and the supposed change is not as simple as it seems.

Crayfish

Fig. 5.9. Pathways of interaction between Mauthner neurons of the medulla of the goldfish, as inferred from extra-and intracellular records. A. The cell body of one side. The axon crosses its partner and runs down the spinal cord, where it forms synapses with motoneurons (m). The Mauthncr cell is normally excited primarily by the club endings from nerve VIII. Each Mauthner neuron inhibits the other by several intcrneuron pathtivays, which are distinguished by the action of drugs. The excitation of ni is blocked by fatigue and n2 by procaine. The presynaptic inhibition of n3, upon the fibres of nerve VIII is peculiar in being blocked by strychnine. The remarkable early inhibition is caused by extraccllular current in the region around the axon hillock (h). There is also an inhibitory pathway to the receptor. B-E. Comparison of extracellular potentials at one point close to the axon hillock under diff erent conditions. B. Both M cells are stimulated antidromieally in the spinal cord. C. Only the eontralnterul M cell is fired antidromicnlly. D. The ipsilateral M cell is fired by VIII nerve stimulation. E. Stimulation of the contraluteral VIII nerve. The ipsi- and contralateral M cells and stimulation of the contralateral VIII nerve each produces its own characteristie hyperpolurizing current. F-G. Simultaneous extra- and intracellular records, showing the extracellular hyperpolarizing potential (EHP) and the intracellular i.p.s.p., which is felt more strongly within the cell. H-I. Antidromic impulses (インパルス, 衝撃) superimposed ut different times on the i.p.s.p, are rcduced in amplitude. J-K. As in F-G, on a faster time scale. L. e.ps.p.'s generated by stimulation of the ipsilateral eighth nerve at diffcrent strengths (club ending pathways). M. Rasing the threshold to e.p.s.p.'s by ΔP as in L, by stimultaneous arrival of an EHP. This is the best indication of the inhibitory action of the extraccllular hyperpolarizing potential. N. Distribution of extracellular hyperpolarizing potential around the axon hillock of a Mauthner cell. The circle is 70 μm in diameter. (Modifications from Furukuwa)
Mollusca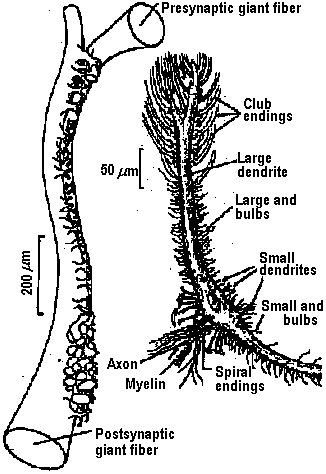 Fig. 2.17. Giant synapse in squid (Young 1939). Mauthner's cell cynapse (Bodian 1952).


Fig. 22.1. Scheme of molluscan types, showing the plan of the nervous system. One ring around the gut is completed by the cerebral commissure above and pedal commissure below. The second is formed by the cerebro-pleural connective and the pleuro-visceral connective (or visceral loop or sling) and completed by the cerebral and the visceral commissures (or in place of the latter by the fusion into a single visceral ganglion). There is typically a pleuro-pedal connective but usually no direct connection between pedal and visceral (except in Amphineura) or cerebral and visceral. The gastropod shown is a prosobranch with torsion. The cephalopod is a tetrabranchiate with several kinds of tentacles (Naef 1928). add. in., adductor muscle; branch., ctenidia or gills; br. g., branchial ganglion; cerebr. g., cerebral ganglion; epipad. tent., epipodial tentacle; lab. paip, labial palp; ped. g., pedal ganglion; pl. g., pleural ganglion; p. s., pedal strand, a medullary cord not yet condensed into a ganglion; v. c., visceral cord or connective; visc. g.. visceral ganglion.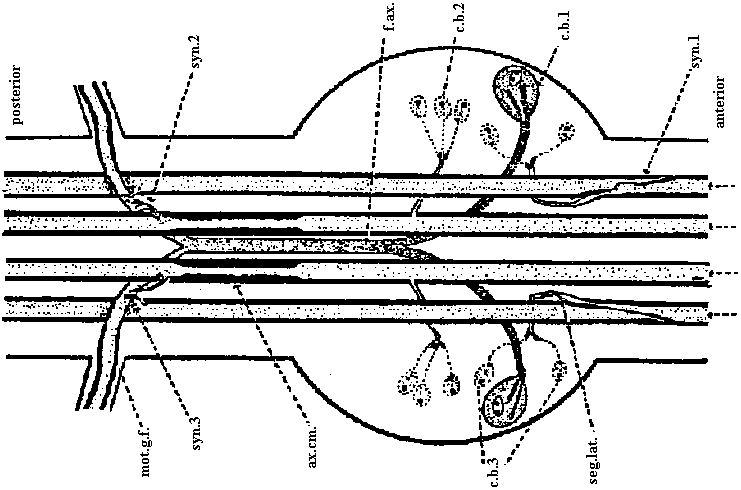 Fig. 20-7. Diagrammatic dorsal view of the arrangement of the giant fibers in an abdominal ganglion of the central nervous system of Leander serratus. The myelin sheaths of the fibers are represented as dense black lines; the axoplasm is stippled. The number and locaton of the cell bodies of the median and lateral fibers is hypothetical, and their connections with the fibers, which have not been demonstrated, are represented by broken lines. ax.cm., segmental constriction of the axon of the median giant fiber; c.b.1., cell body of the motor giant fiber; c.b.2, cell bodies of the median giant fiber; c.b.3, cell bodies of the lateral giant fiber; f.(ax., single axon produced by the fusion of the motor giant fibers; lat.g.f., lateral giant fiber; med.g.f., median giant fiber; mot.g.f., motor giant fiber; seg.lat., the lateral giant fiber arising in the segment; syn.1, synapse between two successive lateral giant fibers; syn.2, synapse between a median and a motor giant fiber; syn.3, synapse between a lateral and a motor giant fiber.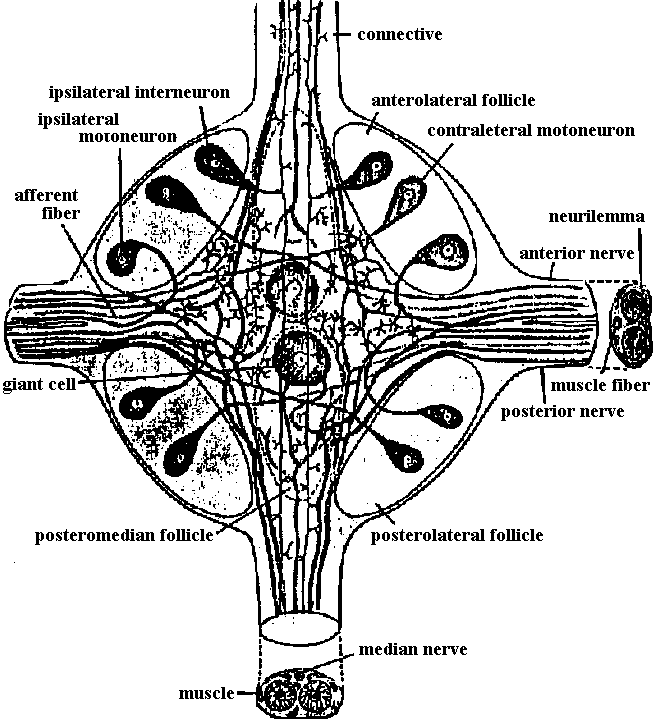 Fig. 14.19. Diagram of a typical ventral ganglion of a leech, showing the main nerve cells and fibers. At right and below, cross sections of the segmental nerve and the intersegmental connective, respectively. (Scriban & Autrum 1932)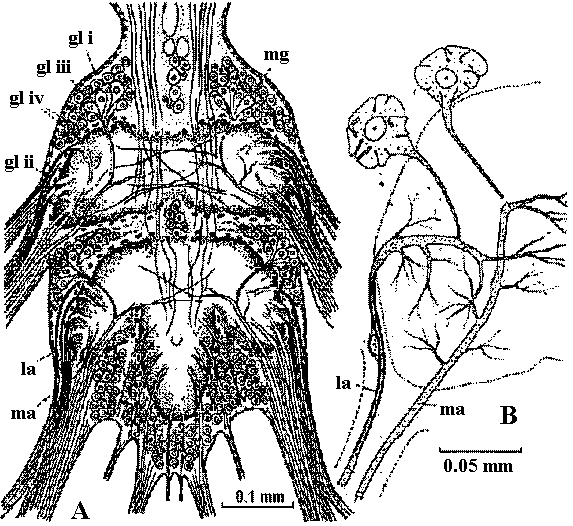 Fig. 17.10. A, diagram of the structure of a ganglion (fused mesotlsoracic, nsetathoracic, and abdominal ganglia) of the hemipteran insect Rhodnius, showing the relation of glia and nerve cells. Note the absence of cell bodies in the neuropile region. gl i, perineurium; gl ii, glial cells forming sheaths of lateral motor axons; gl iii, nucleus of giant glial cell; gi iv, nuclei of glial cells surrounding the dark neuropile; la, lateral motor axons; ma, medial motor axons; mg, motor ganglion cells. B, semischematic scale drawing of a typical lateral motor axon (la) and medial motor axon (ma). The dotted lines mark the boundaries of the nerve and of the dark neuropile. (Wigglesworth 1959)
Fish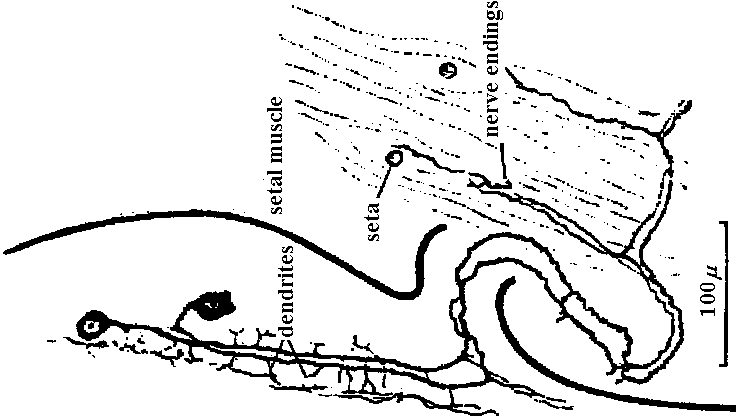 Fig. Two motoneurons to the muscles of the setae, in Pheretima, showing the manner of branching (Ogawa 1939)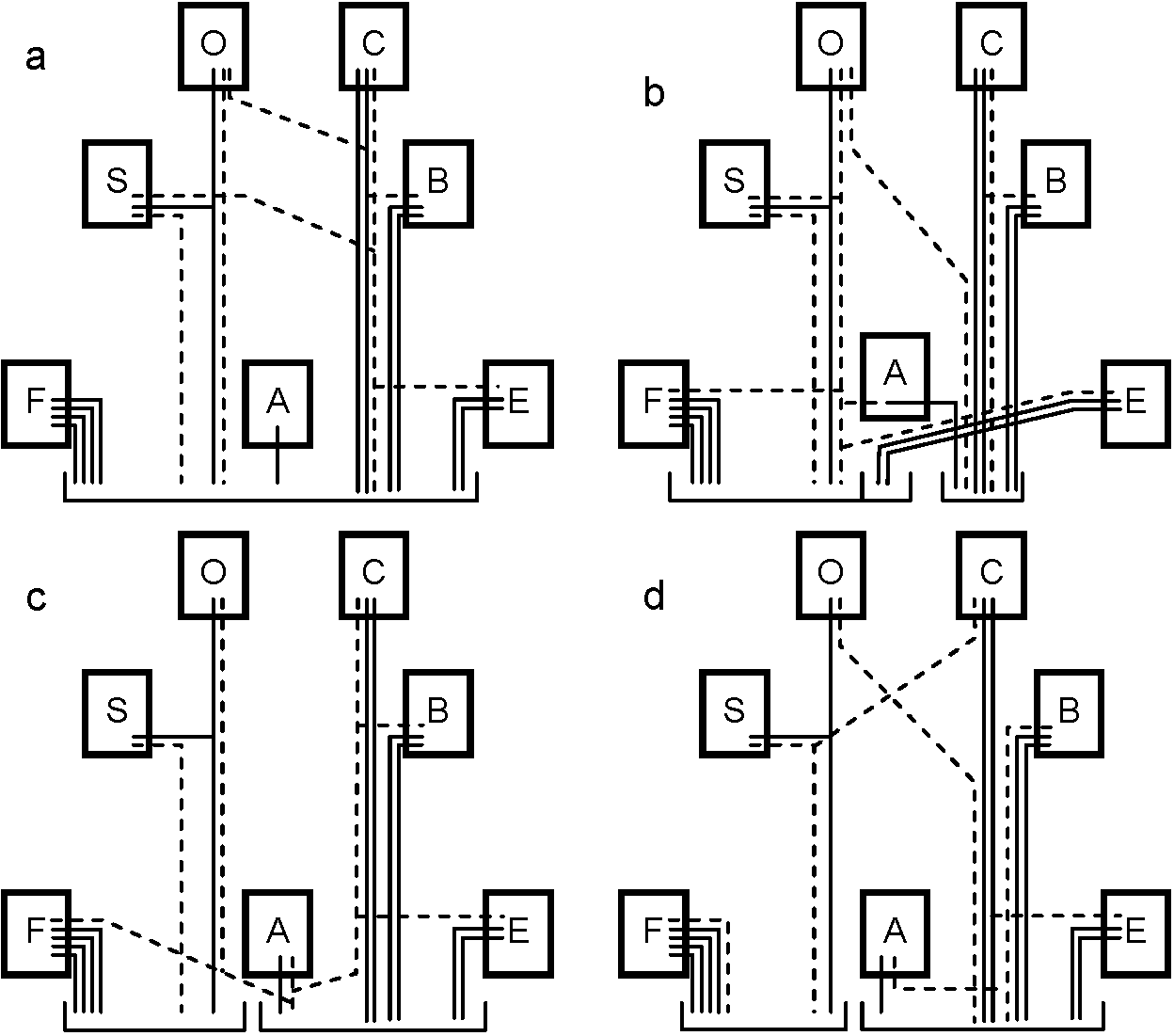 Fig. 24.9. Innervation schemas for the distal muscles in the thoracic limbs of the four Decapoda Reptantia tribes. a, Brachyura; b, Anomura; c, Palinura; d, Astacura. In the Anomura the common inhibitor is variable in position and may occur in the large nerve bundle. A, accessory flexor; B, bender; C, closer; E, extensor; F, main flexor; O, opener; S, stretcher. Solid lines represent single motor axons; broken lines, inhibitory axons; square brackets, distribution of axons between nerve bundles, the largest bundle being on the right. (Wiersma & Ripley 1952)