vegetative stage = often immature stage ↔ reproductive stage = mature stage, anyway
sex ratio: polygamy (多系), vegetative propagation, monogamy
Sexual form Case. Plants Hermaphrodite and monoecy (synoecious)
protandry (adj. protandrous)
protogyny (adj. protogynous)

hermaphrodite flower, bisexual flower

adichogamous flower
dichogamous flower

monoecism, or monoecy
Dioecism, dioecy

androgynodioecious, triecious: (♂)/(♀)/(♂♀)
androdioecious: (♂)/(♂♀)
gynodioecious: (♀)/(♂♀)
Case. Animals
Hermaphrodite, or monoecy (monoecious)
Dioecy Gametophytic apomixis: more in tropical regions

Adventitious embryony: northern elements



antipod → antipodal embryo


synerig → [agamospermy] → synerigid embryo

synerigid embryo Ex. Taraxacum, Alnus, Poa
antipodal embryo Ex. Elatostema, Allium → false vivipary

agamosperms, related sexual species
A. Normal sexual cycle


Sporophyte

2n →

Spore

n →

Gametophyte

n → [Fertilization]

→ Zygote 2n → Seed with embryo 2n

B. Cagetophytic apmixis


___

[Diplospory]

_________________

[Diploid parthenogenesis]


___

Embyro-sac mother cell

2n ↘

__

↗

Egg cell

2n

____

↘
Sprophyte 2n 〈

____

Gametophyte

2n

____

Seed with embryo

2n


___

Sotamtic cell of ovule

2n

__

↗

__

↘

Sotamtic cell

2n ↗


___

[Apospory]

___________________

[Apogamety]
C. Adventitious embryony


Sprophyte

2n →

Sotamtic cell of ovule

2n →

Seed with embryo

2n
Fig. 31.1. Modes of agamospermous reproduction. A normal sexual life cicle is shown for comparison.


zygote (接合子): the cellular product of gametic union

Reproduction is achieved without fertilisation, the sexual process being wholly or partly lost (the term and its definition are according to Winkler 1908). Two types of system are found: vegetative apomixis and agamospermy.
1) Vegetative apomixis
While for a time plants are usually rooted to the precise spot where germination and establishment has occurred, radial growth by means of rhizomes, stolons, runners, etc., is characteristic of many perennial species. Bulbils (small, readily detachable propagules, often borne on aerial structures, (Figure) are found in some species. Plants arising from such propagules will, of course, have the same genotype as the parent plant. Certain crop-plant varieties, e.g. potatoes, and such familiar garden plants as Pelargonium (the gardener's 'Geranium') are regularly propagated by vegetative means.

2) Agamospermy
In certain plants normal seed is set but no sexual fusion has occurred in its production. Offspring have the genetic constitution of the plant which produces them. A plant reproducing by seed apomixis or agamosperrny has all the advantages of the seed habit (dispersal of propagules and a potential means of survival through unfavourable seasons) without the risks which may be associated with pollination. As there is no essential genetic difference between simple agamospermy and asexual reproduction, Winkler grouped these two types of reproduction under the common term of apomixis.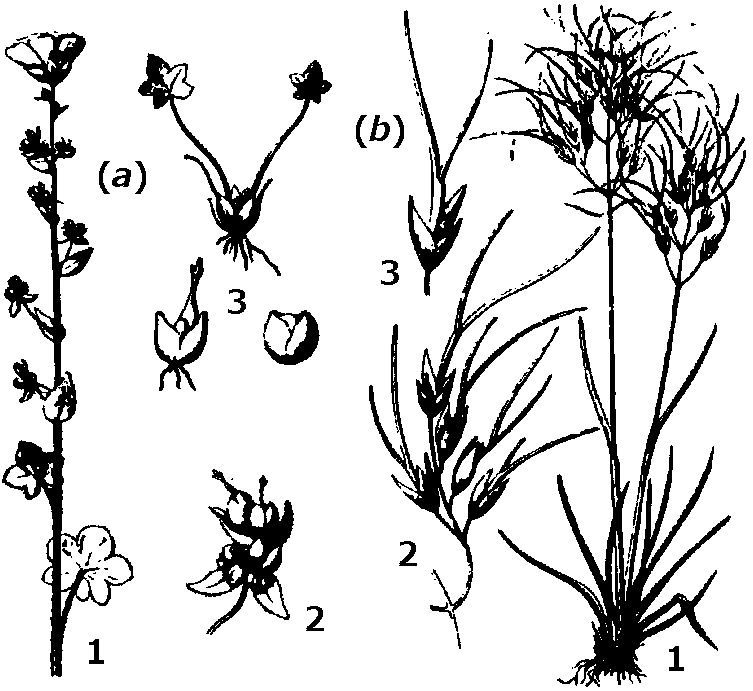 Fig. 7.6. Bulbils. (a) Saxifraga cernua: 1. (× 1); 2. a cluster of bulbils; 3, bulbils in various stages of development (From Kerner 1895) (b) Poa alpina:1. P. olpina with bulbils replacing its flowers (× 1); 2. a portion of the inflorescence; 3. a miniature grass-plant developed between the glumes of a spikelet of P. alpina.
Apospory (無胞子生殖)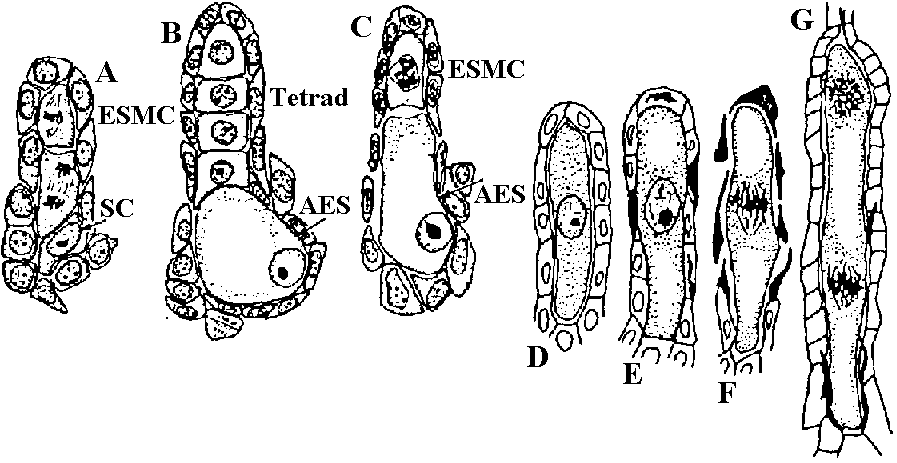 Figure 31.2. Apospory in Crepis occidentalis. (A) Embryo-sac (胚嚢) mother cell dividing (ESMC) and below it an enlarging somatic cell (SC). (B) Linear tetrad above and somatic cell below developing into aposporic embryo-sac (AES). (C) Embryo-sac mother cell degenerating in first division and below it a one-celled aposporic embryo-sac (AES). (Stebbins & Jenkins 1939). (D-G) Diplospory in Antennaria porsildil. Embryo-sac mother cell developing into unreduced embryo-sac. (Urbanska 1974)
Recombination system, res (組み換えシステム)
Maximum res: open res (開放型組み換え), restricted res (制限型組み換え), colsed res (閉鎖型組み換え)
Maximum replication

Open res: wide allogamy
Restricted res: predominant autogamy
Closed res: agamospermy

Table 1.1. Components of the recombination system in plants
1. Factors controlling the amount of recombination per gernerations; control operative at meiosis

a. chromosome number
b. frequency of corssing-over
c. hybrid sterility

2. Factors controlling the amount of recmbination per generation; controlling operative at fertilization

d. brdding system
e. pollination system
f. dispersal potential
g. seed number and germination behavior
h. population size
i. crossability barriers and external mechanisms

3. factor controlling the amount of recombination per mechanisms

j. length of generation