A brief history of plant ecology viewing from ecologists
Warming, Johannes Eugenius Bülow (nickname = Eugen) (1841.11.3-1924.4.2, Denmark), The father of plant ecology

Plantesamfaud (植物群落) proposed in 1895
Warming E & Vahl M. 1909. Oecology of Plants - an introduction to the study of plant-communities. Clarendon Press, Oxford. 422 pp. (2nd edn 1925). [first book on plant ecology]

An important part has perhaps been played by means of climate, which on the whole has become milder.

Schimper, Andreas Franz Wilhelm (1856-1901), a botanist and phytogeographer

Schimper AFW. 1903. Plant geography upon a physiological basis. (Lubrecht & Cramer Ltd; Translated and reprinted edition, June 1960)
beginning of plant physiological ecology (ecophysiology)

Raunkiaer, Christen Christensen (eponymous) (1860-1938)
Tansley, Arthur George (1871-1955)

ecosystem
ecotone
polyclimax
founded British Ecological Society

Clements, Frederic Edward (1874-1945)
Gleason, Henry Allen (1882-1975): Individualistic (or continuum) concept of plant associations

-. 1917. Bull. Torrey Bot. Club 43:463-481. -. 1926. Bull. Torrey Bot. Club 53:1-20. -. 1939. Amer. Midl. Nat. 21:92-110
Gleason did not disagree with the concept of plant "communities," per se: "Granted, of the actual existence of definable units of vegetation there is no doubt that these units have describable structure, that they appear, maintain themselves, and eventually disappear are observable facts."
Rather, he argued that: "vegetation, in its broader aspects, is composed of a number of plant individuals. The development and maintenance of vegetation is therefore merely the resultant of the development and maintenance of the component individuals ... according to this view, the phenomena of vegetation depend completely upon the phenomena of the individual"
Turesson, Goete Wilhelm (1982-1970)

heritability of traits in plant species, common garden approaches, ecotypes

Braun-Blanquet, Josias (1884-1980), phytosociology

vegetation analysis and classification

Stebbins, George Ledyard (1906-2000)

comprehensive analyses of population and geographic variation in plants

Billings, William Dwight (1910-1997)


ecophysiology (gas exchange, water potential, temperature, etc.)

Grant, Verne (1917-2007)

Grant V. 1971. Plant Speciation. Columbia University Press
pollination systems as reproductive isolation mechanisms

Whittaker, Robert Hardin (ホイッタカー) (1920-1980)
1970-present: Allozyme studies in plant ecological genetics
Harper, John Lander (1925-2009): Harper (1977), Begon, et al. (1996)
1960-1974 International Biological Program (IBP)
1975-: scale from molecular techniques to biogeochemistry
1985-: DNA-based genetic markers in plant ecological genetics
1990-: PCR-based genetic marker techniques
1998-: quantitative trait locus mapping emerges as a revolutionary method for studying selection
2000-: plants rule at ESA meetings

renewed focus on mechanisms that control distribution and abundance of plants
Japan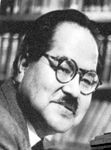 Tatewaki Misao (舘脇 操), 1899.9.8-1976.7.18
---. 1974. The geobotanical relationship between Beringia and northern Japan, with special reference to the arctic-alpine flora of the latter. Journal of the Faculty of Agriculture, Hokkaido University 57: 340-348
---, Ito K, Tohyama M. 1965. Phytosociological study on the forest of Japanese larch (Larix leptolepis Gordon). Research Bulletins of the College Experiment Forests, Hokkaido University 29: 1-176